If you are looking for singles in your area, then Zoosk is the site for you. It has more than 40 million members and is one of the most popular dating sites on the internet. There is a pretty good chance you will find your better half on Zoosk. So, why not give it a try? Go create a Zoosk account now and start looking for that special someone.
To create a Zoosk account,
Go to the official website of Zoosk.
Now, click the "Check in" button. You will see a form appear on your screen.
Enter the details the form requires you to provide.
Finally, click the "Register" button and you are done!
Note: Your mobile number is necessary when creating a Zoosk account because it will be used as the primary login option.
Now, you can start searching for that special someone on the Zoosk website. Good luck with finding love!
Keep reading to learn about creating a Zoosk account in detail and many more.
What Is Zoosk?
Let's start with the basics. I guess you have heard Zoosk from your friends and family members. But, do you know what Zoosk is actually?
Zoosk is a popular dating site where people are looking for love or friendship. It has 40 million active users from all over the world who are interested in hooking up with someone they can enjoy their life with. The best part about this website is that it is easy to use. You can create a Zoosk account easily and can enjoy the site without any hassle.
There are around 40 million people on the Zoosk website and you will never feel alone on the site. The website has people from different age groups and regions of the world which means you can find someone who is looking for a serious relationship with you.
What makes Zoosk stand out from other dating sites is its unique algorithm that matches people together. This helps you find the right partner for yourself, someone who will click with your personality perfectly. The other features of Zoosk are completely dedicated to your safety and privacy.
Here are some of the features of Zoosk:
It is available in 80 different countries.
The advanced search option helps you find the perfect match.
Unlimited messages are sent without any limits.
It has a powerful anti-spam system that protects you from fake profiles and scammers.
The premium membership offers a wide range of benefits.
Gender, culture, age, marital status, and religion are some of the criteria you can use to search for your perfect match.
You can find people from any background, age, gender, or race and swipe through the profiles as per your choice.
Today, one in five relationships start on Zoosk and I am sure the numbers will be increasing soon with all these cool features. So, what are you waiting for? Go get your free account today and enjoy a hassle-free dating life!
How To Create a Zoosk Account?
It is pretty easy to create your Zoosk account. You can do it online in just a few minutes without any hassle. The website has an interactive interface that makes things easier for you and provides step-by-step guidance throughout the process.
But, if you didn't find that helpful, here I have come up with a step-wise procedure that will guide you through the whole process:
Step 1: Visit Zoosk Site Or Open The Zoosk App
First of all, open a browser of your choice and visit the official Zoosk site. You can use your desktop or laptop to create an online account with the website.
And in case you are willing to use the Zoosk app, download it from the Playstore for Android and AppStore for iOS. Then, launch the app.
For reference, I am using the images from the Zoosk site.
Step 2: Click The "Sign-Up" Button.
Once you are on the site, you'll see the home page of Zoosk. Now, scroll down to find a red button labeled "Sign-Up." Click that button and wait for a few seconds as it will take some time to load a form.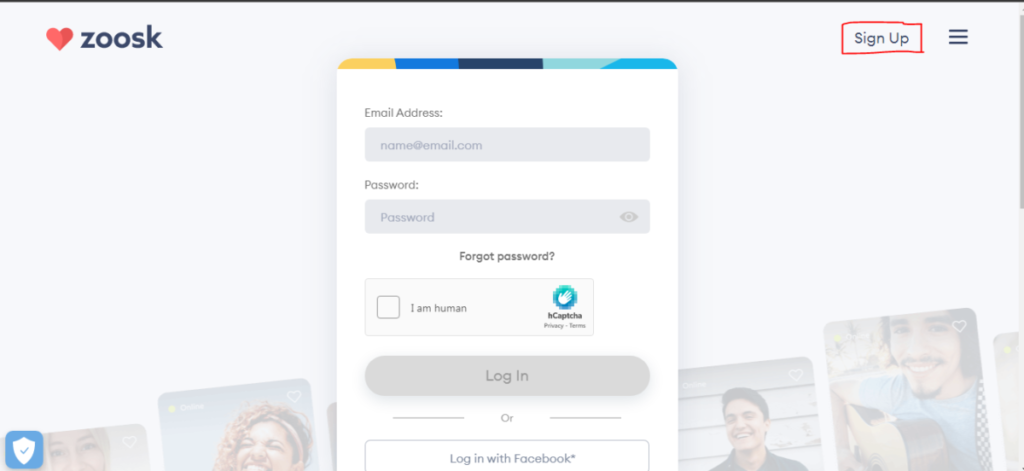 Step 3: Enter Details On Form
After clicking the check-in button, another form window will open. There are six sections in this form. Fill each of them with the required details and click "Next."
In Email Address, you need to provide a valid email id in order to create a Zoosk account.
In Password, you need to enter your password twice for confirmation purposes and click "Next." The passwords should be at least eight characters long with upper case letters, lowercase letters, numbers, and special symbols like "@" or "." included in the text.
In the Gender section, choose your gender from available options.
Finally, enter your birth date and verify the CAPTCHA.
Step 4: Create Your Zoosk Account
Once all the fields are completed successfully, click/tap the "Sign Up" button. Now, you've successfully created your Zoosk account and can log in to it whenever you want.
After You Create Zoosk Account
Once you create your Zoosk account, you can start swiping through the profiles of people who are looking for a like-minded partner in your area.
You can swipe to the right if you find someone interesting and want to know more about them or swipe left on their profile if you don't wish to match with that person. You also have an option of blocking users, so no one else can view your profile.
Good luck on your journey to find a date!
How To Login To Zoosk Account?
Once you have created your Zoosk account, you have to log in to it in order to access the account. Logging in to your account is quite easy, but you need to understand the login process correctly.
Here is what you need to do to login into your Zoosk account:
Open the official website of Zoosk. You can use any browser you want for this purpose, but make sure it is not a private browsing window as the cookies from that page won't be saved.
Now, tap the "Log in" button at the top right corner of the site.
A pop-up window will appear on your screen where you need to enter your email address and password as it is required to login into your Zoosk account.
Enter those details correctly and press the "Login" button from below that box. You have successfully logged in to your Zoosk account now!
Visit How To Login To Zoosk? Zoosk Login Guide to Make Online Dating Fun to learn more.
Start using the Zoosk app and dating service to find your perfect match!
How To Delete Zoosk Account?
If you have created a Zoosk account but now want to delete it, then that's possible as well. You can do so easily by following these steps:
Open the official website of Zoosk on any browser window.
Now, click the "Log in" button and enter your email address and password to sign into your account.
Once you are logged in successfully, go to Menu option on left side of your screen. Click or tap on that menu item which will open a new window containing three different links: "Settings," "Help" & "Log out."
Click on the "Settings" button and a new window will open on your screen.
Then click or tap on the "Account" button from that page to enter a section where you can delete Zoosk account easily by clicking/tapping a link labeled as "Delete Account."
That's it. Your account will be deleted successfully.
Frequently Asked Questions(FAQs)
Here, I have answered some of the most frequently asked questions about Zoosk which will help you to understand it better.
Is Zoosk Safe?
It is 100% safe to use Zoosk and there are no chances of any data theft or hacking. You can freely create a Zoosk account as it's an official app used by millions of people across the world.
Is There A Free Version Of Zoosk?
Yes, you can download Zoosk for free, but only if you want to use its basic features. If you are interested in using the premium version, then there is a small charge for that mode of service usage.
Conclusion
Zoosk is one of the world's biggest dating sites and apps that help people find their perfect match online easily. The site has made it easy for all those people to find a match by just swiping right or left.
Once you sign up for a Zoosk account, you can start using the features and options of this app/site immediately after creating your Zoosk account successfully. So, go ahead and create an account now!