Do you have an eBay account that you want to delete permanently? If so, then this is the guide for you! This article will walk you through all of the steps necessary to delete your eBay account. In addition, you will learn how to delete your eBay account permanently, how to deactivate it, how long it takes before your eBay disappears, and more.
To delete your eBay account, follow the steps below.
Navigate eBay > Account > Close my account.
Select "Submit a Request"
Select your reason to delete your account and click "Continue."
Confirm your action.
That's it! Your account has been deleted, and you are no longer a member of eBay.
Read this article till the end to know about eBay account deletion and more in detail.
How To Delete Your eBay Account Permanently
eBay is a fantastic place to buy and sell goods, but eBay may be the only reason why you want your eBay account. If eBay has become a bit of a hassle for you or has made things difficult for you, then it's time that you delete eBay permanently from your life without any further ado.
Before You Delete eBay Account Permanently
Before starting the deletion process, you should know that it can't be recovered once your eBay account is deleted. So if there's any chance that you might use the eBay account again in the future, don't delete it now.
eBay provides you with an option to deactivate your eBay account instead of deleting it. In addition, if there's any chance that you might use the E-mail address, then eBay lets you change or reuse it whenever required.
Also, ensure that:
– eBay account is the only active eBay account linked with your email address.
– You have access to eBay account and all of its associated eBay services like Paypal, eBay marketplace, etc. If not, then deactivate it first before deleting it permanently.
– All pending orders are completed or canceled before you delete your eBay account.
Delete eBay Account Permanently:
If you are clear and want to delete an eBay account, please follow this eBay guide to delete an eBay account.
Step 1: Visit eBay's Homepage.
Open your browser and visit the official homepage of eBay, and log in to your account.
Step 2: Review eBay Account Information
On the homepage, click on your name at the top right of the page and select "Account" from the drop-down menu. In this section, you can view all information about your eBay account.
There is a link to delete an eBay account under the Personal Settings tab named "Close account," which will take you to another window where it says: "If you want to delete your eBay account permanently, click here."
Step 3: Submit A Request
It's time to submit a request to delete your account permanently.
Step 4: Select A Reason.
Now, you will see a list of reasons on your screen asking why you want to delete your eBay account.
Please select a reason from the list and click on the "Continue" button. eBay will ask you some questions about your eBay history and why you want to delete your eBay account permanently, so make sure that you answer them honestly.
Step 5: Enter Your Password & Select A Security Question
Once eBay processes your request, it will ask you to enter your password and select a security question.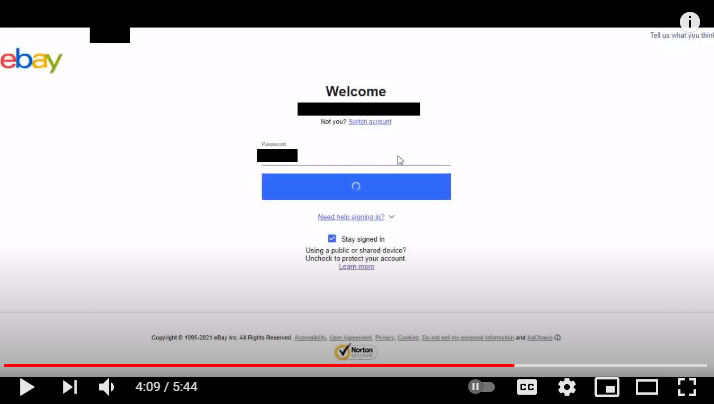 Step 6: Select "Continue" And Confirm The Deletion
Finally, eBay will ask you one more time if you want to delete your eBay account.
Select the "Continue" button and confirm the deletion of your eBay account.
You have successfully submitted a request to delete your eBay account permanently! Now, it's eBay's turn to review your request within 30 days.
What Happens After You Delete Your eBay Account?
"What happens after deleting an eBay Account?" If this question is running through your mind, you should concentrate on the following points.
eBay account is deleted permanently, and all information related to it will be removed from eBay servers.
If you have a PayPal account associated with your eBay account, the association between them will disappear as well.
eBay may still hold some of the information about your eBay account for some time to comply with financial regulations.
eBay will not delete any feedback you have left for other eBay members or comments they might have made about your account, so be careful what you post.
If someone else buys an item from the same PayPal email address as yours, eBay may still send them a message regarding their purchase. However, eBay will not send these messages to you or other people who have previously bought from your PayPal email address.
Should You Delete Your eBay account?
The last thing you want to do is regret losing an eBay account for good! That's why eBay gives members the option of deleting their accounts so that they can cancel and reactivate them at any time. Deleting your eBay account permanently removes all traces of you from eBay- not just your auctions and buying history, but also feedback, any contact information associated with the account, and every other eBayer that has ever been in contact with you through eBay.
If you are sure that you won't ever want to use eBay again, you can go ahead and delete your eBay account. Just make sure that you read the fine print before deleting your eBay account. Otherwise, you may be giving up more than just your eBay history!
But, in case you are confused, I suggest you rethink it and rather deactivate your eBay account temporarily instead.
Alternatives To Permanent Deletion Of eBay Account
If you are not sure you want to delete your eBay account permanently, there are alternatives for you. First of all, if you use eBay solely as a platform on which to sell items, it might be better just not to have an eBay account at all. You can still list your products without signing up for eBay with companies like Storenvy or Etsy. eBay is free if you only use eBay to sell items, but it means you won't have access to EBay's features.
If you need more time before deleting your eBay account permanently, try deactivating instead of deleting completely. When you delete an eBay account, the information cannot be recovered, and eBay will not allow you to sign up with the same eBay account name. eBay does offer deactivation as an option, though it is for a fee of $15 (USD). eBay says that if you decide within 30 days after deactivating your eBay account, they can reactivate it, and all information associated with it will be restored. eBay deactivation is offered if you change your mind or want to sign up again later but do not want someone else to take over the eBay account name.
If you choose eBay deactivation, keep track of when the 30 days begin because if it goes beyond that period without reactivation, all information associated with your eBay account will be gone for good.
How To Deactivate an eBay account?
It is easy to do if you have changed your mind and want to deactivate your eBay account.
1. Log in to your account from the eBay site
2. Go to the Deactivate Your Account page
3. You will be given a warning message and a Quick Deactivation option
4. Select "Deactivate" at the bottom of the page
5. Review confirmation messages and click "Cancel Subscription."
eBay will then notice that they have deactivated your account after 30 days of inactivity.
Frequently Asked Questions(FAQs)
Let's clear your doubts regarding your eBay account now:
Can You Get Banned From eBay?
Yes, you can get banned from eBay, depending on what you do. If you use any eBay policies to engage in malicious behavior, your account will be deleted permanently. eBay also has the right to ban your account if they deem it necessary.
Can I Have Two eBay Accounts?
No, you cannot have two accounts. Of course, you can always sell on eBay by creating another account but having more than one eBay account is prohibited and would lead to your permanent deletion of the second account as well.
Can You Change Ownership Of The eBay Account?
No, you cannot change ownership of your eBay account. eBay is not like Facebook, where one person can leave, and another person takes over the page or group. eBay accounts are assigned to a specific user that creates it initially, which means there isn't any way to transfer your eBay account's ownership to someone else, unlike other platforms such as Google+ or Facebook.
Will eBay Actively Contact Me To Verify My Details?
Yes, eBay might reach out to you if they notice any unusual activity on your account or in case of having reason to believe that the security of your eBay account has been compromised. They may also ask for additional information related to your eBay transactions which are necessarily based on EBay's discretion.
Wrapping Up
So, here is a detailed article on how you can delete your eBay account permanently. eBay has become a big part of our lives, but sometimes deleting your eBay account can be the best for you. If you have any further questions about this process, please leave me a comment below!
Happy eBaying.
References: