Are you thinking about deleting your Bumble account? There are a lot of reasons why someone might want to do this. Maybe you have been on the site for a long time and want to try something new, or perhaps you just don't like it anymore. Whatever the case may be, in this blog post, we will go over seven steps that will help guide you through the process of deleting your Bumble account.
To delete your bumble account, follow these steps:
Open the Bumble app on your device or visit Bumble.com.
Login to your bumble account if you havent already.
Tap the profile icon on your screen.
Go to the "Settings."
Scroll until you see the "Delete Account" button and once you do, select it.
Reconfirm to delete your account.
Finally, tap "OK."
And it's done. Your account should be deleted once you have gone through these steps.
Keep reading to learn about deleting your Bumble profile and many more.
About Bumble
Bumble is a dating platform where women make the first move. The woman has 24 hours to make the first move, and if she does not, then it is up to the man. Men can also go in "Male Mode," where they get all of the power, and women cannot initiate anything (although this mode tends to lose popularity over time).
Bumble started as just a dating platform but now offers new features like BumbleBFF and Bumble Bizz. The "B" modes are paid features that give users additional benefits, but the standard version of Bumble is still free to use for everyone.
I myself use the Bumble app and love it. I love the idea of making the first move and how no one can message you unless they match with you first. It's a really great feature that gives users a lot more control over their dating life, which is something that everyone wants to have these days.
So, if you were thinking of joining Bumble, I recommend you to do it absolutely. The app is free to download and use, so why not give it a try?
Before Deleting Bumble Account:
Before deleting your Bumble account, there are a few things you might want to do first. Some of these steps are easy to follow, and others might take a few minutes. Either way, they are all critical.
The first thing you might want to do is cancel your subscription if you have one (and even if you don't). Unfortunately, Bumble subscriptions cannot be canceled using the app itself, and you must do it with your iTunes or Google Play account instead.
The second thing you might want to do is update your profile. This includes removing photos or information you don't want to be associated with your account anymore, whether it's a photo from a bad breakup or something else entirely.
You might also want to contact Bumble support to make sure you can access your account. But, of course, the worst-case scenario is that they close your account for inactivity, and you don't want to be left behind with no way of getting back on the site, so check first before deleting it forever!
Last but not least, if you are deleting your account because you don't want a partner anymore, I would recommend switching to the "BFF Mode" instead of deleting your entire Bumble profile. That way, if you ever change your mind about using it again in the future (or even just want to show off a new profile), everything is still there and waiting for you!
How To Delete Your Bumble Account:
Now that you have an idea of what to do before deleting your Bumble account, it's time for the actual process.
To delete your Bumble account, you can use both the Bumble app as well as its site. So, choose whatever is easiest for you and follow these steps:
Step 1: Open Bumble
First of all, open the Bumble app on your device or visit Bumble.com in a web browser to delete the account from there.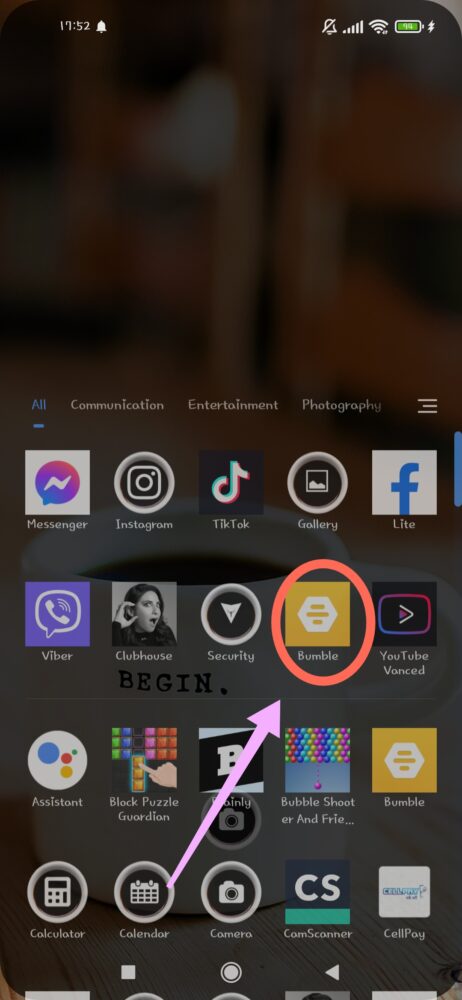 Step 2: Login To Your Bumble Account
Now, log in to your Bumble account using the required credentials.
Step 3: Click/Tap On The Profile Icon
You will see the profile icon at the top left side of your screen. Click/tap on it and then proceed to "Settings."
Step 4: Go To "Settings."
Then, select the cogwheel button, and you will be redirected to the "Settings" page. Here, it would help if you looked for a tab named "Delete Account."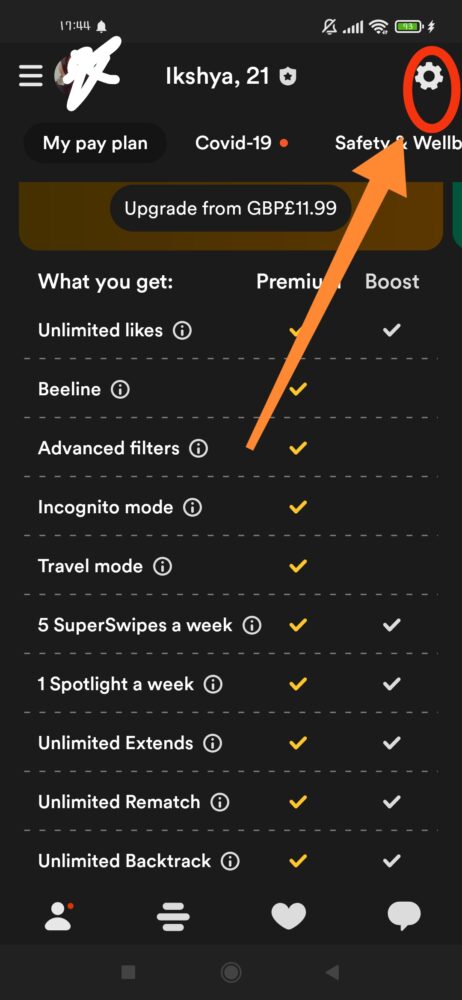 Step 5: Tap On Delete Account Button
Once you find it, tap on the delete account button and then enter your password if prompted. Afterward, click/tap on OK at the bottom of your screen to confirm your decision.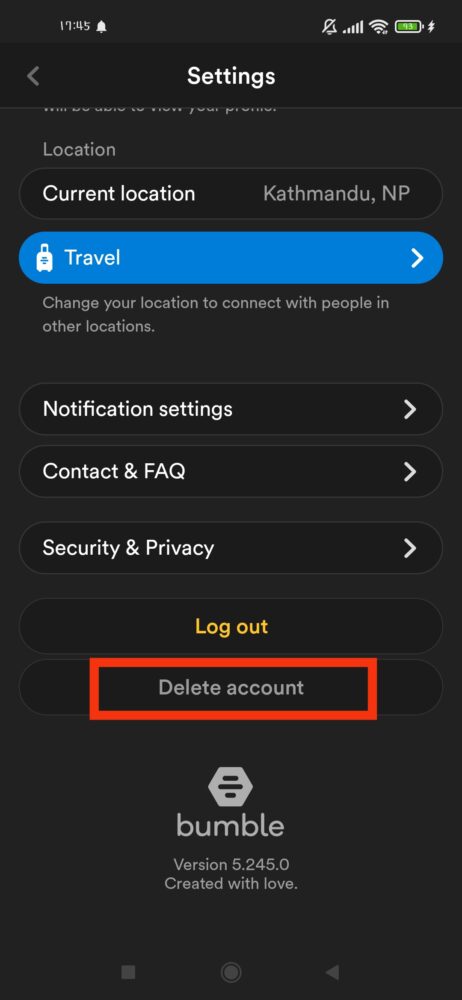 Step 6: Verify
After that, enter "Delete" again, and Bumble will take you to a verification page where Bumble is asking for your confirmation yet another time.
Step 7: Click/Tap On "OK" One Last Time!
Finally, after reviewing all information one last time, click/tap on "OK" to delete your Bumble account.
How To Disable The Date Mode:
You dont need to delete your Bumble account if you are tired of using it because you still have the option of disabling the "Date Mode" whenever you want.
This is very simple, and all you need to do is switch your profile mode to BFF instead of "Date," which will make everything disappear except for your bio information (don't forget to remove that too if necessary).
Here is how you can do it:
Open the Bumble app on your device and then login using your credentials.
Tap on the profile icon which is located at the bottom right side of your screen (after scrolling down).
Now, you will be taken to a new page where you have to click/tap on the "cogwheel" button to open Settings.
Finally, choose BFF instead of Date from there!
How To Unlink Your Bumble Account From Facebook?
It's really tough deleting your Bumble account without having to cut off all ties with that account because it's connected to Facebook for safety reasons.
So, please unlink your Bumble account from Facebook before deleting it because if you don't, then your profile will still be visible on the site even after getting rid of all accounts.
Here is how you can do that:
Firstly, login to Facebook on your device.
Now, tap on the profile icon at the bottom right hand side of your screen (after scrolling down).
Then click/tap on "Settings" and then "Account Settings."
After that, look for the "Apps" option and then select it.
Now, click/tap on Bumble from there to open its page.
Finally, hit the button which says "Remove App" at the bottom of your screen!
And you are done. Congratulations on unlinking your Facebook account from Bumble.
How To Cancel The Subscription For Paid Bumble Versions:
Suppose you are using a premium version of Bumble. In that case, it's necessary to cancel the subscription before deleting your paid profile because otherwise, it will be renewed automatically, and there is no option for canceling any subscription on this site.
Because of this, you need to cancel the subscription before going ahead with deleting your Bumble account. Here is how you can do that:
Open your PlayStore or AppStore according to the device you are using and then select "Bumble" from there to open its page.
Now, find a button which says "Manage Subscription" at the bottom of your screen (after scrolling down) and tap on it.
After that, follow all instructions in order to cancel your Bumble Premium subscription successfully!
After Deleting Bumble Account
Once you have deleted your Bumble account, there is nothing that can be done about it because all data will remain on the site until its being deleted by Bumble employees.
However, you should know that your profile information won't stay up there for a long time, and after 30 days of getting rid of the account, everything related to you becomes non-existent both from inside and outside the app.
Frequently Asked Questions(FAQs)
Let's answer your concerns regarding deleting the Bumble account as follows:
Is It Possible To Delete My Account Without Switching The Mode?
Yes, it is very much possible for you to delete the Bumble account without switching the mode because this option will still be there for you.
Can I Merge Two Bumble Accounts?
Merging two Bumble accounts is possible, but only if they use the same email address; otherwise, it's not an option. So, this method won't work if there are any differences in terms of your email addresses which you use to log in on both bumble accounts!
Can I Delete My Profile And Then Log In Again Using The Same Email Address?
No, you can't log in again using the same email address you used to log into your bumble profile before deleting it!
Conclusion:
Now, you know how to delete a Bumble account on both Android and iOS platforms.
So, do not hesitate anymore if you want to get rid of your profile from this site and live a peaceful life once again!
I hope that my blog post was helpful for you in some way or the other. Thanks for reading it till the end! 🙂
And yes, feel free to reach out to me if you have any doubts regarding deleting the Bumble account. I will be more than happy to help you out to make this process as smooth and easy for you!