Snapchat has been able to bring itself forth as a social-networking giant and as a marketing giant. A mere messaging app that turned down a $3 billion acquisition offer from Facebook to chase an independent destiny now earns revenue worth billions. Moreover, Snapchat has been able to uplift itself with $2.5 billion revenue as of 2020, with a recent valuation worth $90.9 billion in 2021. So, how Snapchat makes money? Let's find out!
Snapchat earns the majority of its revenue from advertisements. For example, the app shows various brand advertisements between stories. Although such "Snap-Ads" helps Snapchat collect about 99% of its revenue annually, other sources of its earning are the smart glasses called "Spectacles" that Snap Inc. launched in 2016, sponsored filters, geo-filters, and partnerships.
You know when you're watching your friends' stories, and an advertisement pops up, and you sit there and wait for it to finish or maybe have thoughts about how helpful the product would be? YES, that's how Snapchat makes money.
In this article, we will explore the monetary strategy of Snap, Inc., its business model, and much more.
What Is Snapchat?
Snapchat is one of the most popular social-networking apps today. This application focuses on privacy and allows you to share your day-to-day memory through photos and videos called "Snaps." The photos, videos, and the text you send and receive disappears once seen. That is why it is loved by most Gen-Zs who like to maintain privacy.
Snapchat is available to anyone above the age of 13. What makes it attractive than other apps are its self-destructive messaging system and various successful ways of user engagement like streak maintenance, visual sharing, etc. The app comes with many features. A few of them are:
Camera
Snapchat calls itself a camera company as it directly opens up the camera on your phone when in use. It uses augmented reality (AR) to create fun and attractive lenses and filters that add cool effects to your photos and videos.
Similarly, it also contains filters which are specific types of fun frames that you can use in your snaps. In this way, Snapchat is prominently a camera app.
Communication
Using Snapchat, users can communicate by sending each other snaps. They can even chat or use Bitmoji (a personalized avatar tool) for communication.
Snap Map
Snap Map is another excellent feature in Snapchat that helps users connect with their friends and see where they are. This enables local social-networking
Stories
Stories were the critical feature of Snapchat until other networking giants like Facebook and Instagram copied the idea. Stories make it possible to check all the content produced over Snapchat.
Spotlight
Spotlight is a feature that allows users to share their snaps and videos from people worldwide. In addition, the viewers can engage with them by liking, sharing, and saving.
Who Owns Snapchat?
Snapchat was founded in 2011 in California by three brilliant university students. Evan Spiegel, Reggie Brown, and Bobby Murph founded Snapchat by "Picaboo."
After the fallout among the founders, two co-founders, Evan Spiegel and Bobby Murph rebranded as Snapchat. Snap Inc. now regulates Snapchat as one of the hottest IPOs and trading on the New York Stock Exchange for $50.67 per share.
How Snapchat Makes Money?
Snapchat has over 230 million active users, and as mentioned before, the Inc. will have about $100 billion market value in 2021.
Snapchat is used by millions of people worldwide and has a user-friendly monetary strategy. Here are some of the ways Snapchat makes money:
Advertisements
About 99% of Snap's revenue comes from advertising. Hence, it is essential to attract several advertisers. The strategy is to show brand advertisements in between snaps and stories.
Since the number of active users has increased, more advertisers are attracted to this platform. As a result, I have seen some unique ads while tapping on my friends' stories.
The advertising products on Snapchat are either AR ads in the form of sponsored lenses and filters or the in-between snap ads using the whole screen in images, videos, stories, etc. Thus, sponsored ads are how Snapchat makes money.
Sponsored Lenses/Filters
Since Snapchat is a camera app, it goes beyond the way to make your face look good, fun and, fabulous. Snapchat has added various Augmented Reality (AR) lenses and filters that give unique features to your face.
Snapchat charges fees starting from $5 and offers the most demanded filters. For example, if you remember, the Taco Bell filter was an on-demand lens for which Taco Bell spent around $750,000 to get 224 million views.
Such branded lenses are a prominent source of Snap's earnings. However, the lenses are pretty cool and help the users engage with each other fun. You can also create your customized filters and lenses from the app.
Discover Section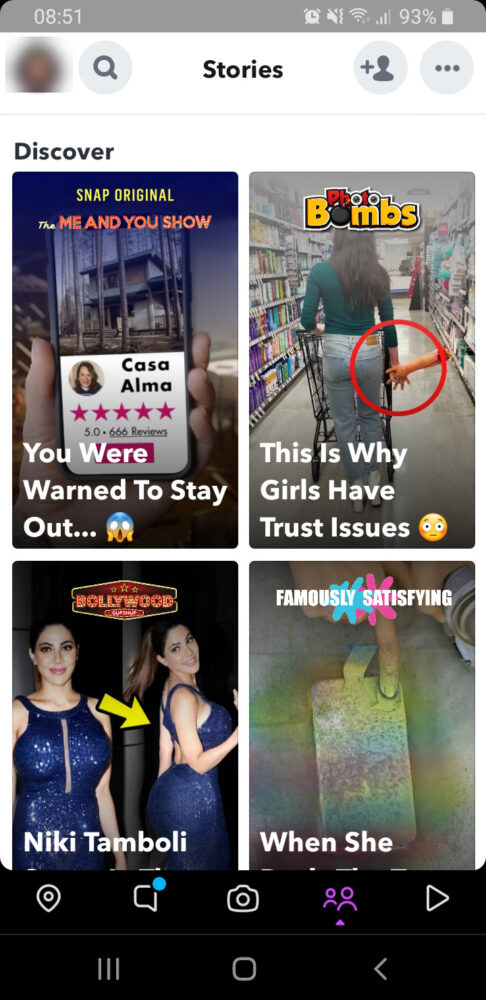 Snapchat created the discover section in 2015, which allows publishers to post on Snapchat for the viewers to watch their content.
You can go to the discover section the same way you watch your friends' stories as Snapchat has merged these two features on the same screen.
The discover section has many content providers like MTV, BuzzFeed, etc. The idea of the discovery section is that the viewers are to discover the content creators or even brands that they like and subscribe to it to get daily updates.
Not only that, even your stories may be discovered by other people if you have good content on your public stories.
In this way, the discovery section contributes to a portion of Snapchat's revenue.
Branded Geo-Filters
Geo-filters or location filters are the filters that you can access within a particular geographical area. You can enable the geo-filters by swimming after taking your Snap.
You can purchase a geo-filter directly from the snap website. People usually get sponsored or branded geo-filters for parties, campaigns, or even movie premieres. Advertisers allow their viewers to go to their websites or even purchase products through these filters.
One good example of this: X-Men: Apocalypse film purchased X-Men snap filters, through which the users could even purchase the movie tickets by simply swimming right. Thus, geo-filters are a good platform for Snapchat to make money.
Partnerships
Partnerships with renowned personalities and organizations are another way apps like Snapchat make money.
Snapchat has been partnering with various Sports organizations like NBA, FIFA, etc. This gives more ways to enjoy the World Cups and other competitions through matchday highlight stories. The partnerships have also proved beneficial to sportswear companies like Nike, Adidas, New Balance, Puma, etc.
Similarly, Snapchat also collaborates with celebrities and artists to show sponsored stories. Brands, celebs, movies benefit from the partnership and are ready to pay enormous sums for it.
Spectacles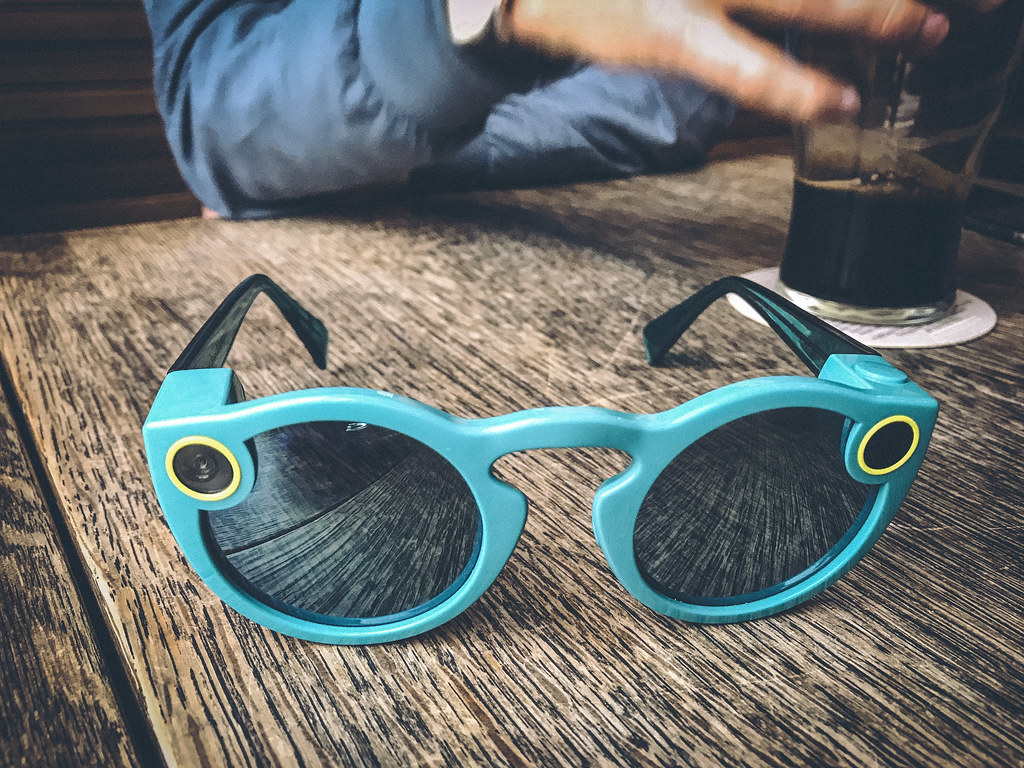 Spectacles is a failed monetizing strategy of Snapchat. Spectacles are smart glasses that Snapchat introduced in 2016. It allowed users to take snaps and videos of their looking through the built-in cameras.
After the launch, this was overly hyped, and many users bought it. But eventually, the hype faded away, and Snap was at a loss of over $40M unsold spectacles.
Therefore, these are some of the ways Snapchat makes money.
How Much Money Does Snapchat Make?
Snapchat generated a $1.1 billion revenue in 2018, $1.7 Billion in 2019, and $2.5 Billion in 2020, which was a 47% increase year-on-year.
As of 2021, Snapchat has about 293 million active users, around 108 million belong to the United States.
In 2017, Snapchat generated its IPO and was valued at $25.5 billion. Eventually, the value increased to $90.9 billion in 2021.
Snap not only makes money but also loses a lot of it. It posted a loss of $944.8 million in 2020, which was an improvement from the $1 billion loss in the year 2019.
Business Model of Snap, Inc.
You can download Snapchat through the Play Store or App Store for free of cost, and it also doesn't require any premium subscription. 99% of Snap, Inc.'s earning comes from Ads.
Hence, we can say that the Business Model is simple. Users use Snapchat free of cost and watch the sponsored ads. The ad offers sponsored stories, filters, and lenses that make most of Snap's income.
Frequently Asked Questions
Who Are Snapchat's Competitors?
Since Snapchat is primarily a platform for selling advertisements, it has significant competition from other companies. Those include companies that use digital advertising mechanisms and traditional sectors like prints, radio, and television.
The major competitors are Apple Inc., Facebook Inc., Google, Twitter Inc., Pinterest, and many more.
Is Snapchat Profitable?
Snapchat faced a net loss of $994.8 million on a $2.5 billion revenue, Snapchat is still not a profitable venture. The profit decreased from $1 billion in 2019 to $0.9 billion in 2020.
Can You Make Money On Snapchat?
Yes, like all influencers and businesses, you can make money on Snapchat. You can get paid to advertise on your story; you can promote your products and services, create your geo-filters, use sponsored lenses, or get featured on Snapchat Spotlight.
Conclusion
Thus, Snapchat makes money primarily through advertisements of products and services, sponsored filters, lenses, and stories. Partnering up with various renounced organizations and personalities also makes up a portion of Snap's earnings.
There are a lot of challenges for Snap, Inc. as all other social-networking giants now have features that were considered unique on Snapchat. Snapchat, to keep generating billions worth of revenue, has to up its game in user engagement and make itself profitable.
I hope this article has given you some information on how Snapchat generates annual revenue, its monetizing strategy, and its business model.
Feel free to leave comments below in case you have any queries.