Do you remember that time when you decided to log into Snapchat only to find out your password had been changed? It's okay because there are several ways in which you can recover it. This blog post will talk about three methods and tips on how to do so without having access to your phone number!
You can recover your Snapchat account without having access to your phone number if you:
Reset the Snapchat password from the website
Reset Snapchat password via Email
Reset Snapchat password using Google Password Manager
I'll explain how you can recover your Snapchat password with each method below.
Forgot Snapchat Password?
Did you forget your Snapchat password? Do you not have access to your phone number? Are you asking your friends for help and all they say is "I don't know how you can reset your password?" Don't worry, you can do it yourself! There are several different ways to recover your Snapchat password without the use of your phone number.
It is important to remember that some methods work better than others depending on what type of account you have with Snapchat. You should be able to reset your password using one or many of these techniques. mentioned below.
How To Recover Snapchat Password?
You don't need to panic, there are many ways to recover your Snapchat password without knowing the phone number. I know it's hard to convince, but it's true.
You can recover your Snapchat password in multiple ways without knowing your phone number. In this section, I will explain to you all the possible ways to reset your Snapchat account password without phone number access.
Snapchat Password Reset Via Email
The simplest way to reset your Snapchat password is to reset it via email. You must certainly have linked your email address to your Snapchat account and by doing this, you can simply reset the password via sending a verification link.
To do so:
Open the Snapchat app or Snapchat website.
Tap "Forgot Password" on the login page.

Tap "Reset Password" and choose the option to reset via email.
Enter a new password and tap OK.
Team Snapchat will send you an email containing a verification link. Click on the said link to reset your password.
Snapchat Password Reset Using Google Password Manager
Have you noticed the time when Google prompts you to save your password for any app? Well, this might be of great help if you have saved your password for Snapchat in Google Password Manager.
Even if you don't remember saving the password, there is still a chance. All you need to do is:
Open "Settings" on your phone
Scroll down to "Apps"
Choose "Google Password Manager." Now you have to enter your Gmail ID and password. If this is the correct account, then it will open a screen with all applications for which you have saved your account details in Google Password Manager. Snapchat should be listed there so click on it. This might take some time depending on how many apps you have saved.
If Snapchat is listed there, it will load the page where you can reset your password. But if it isn't listed, then check in Gmail whether you have linked your email id with Snapchat or not? If yes, try to remember what was the password that was used when linking this account and use it to reset the password.
Reset The Snapchat Password From The Website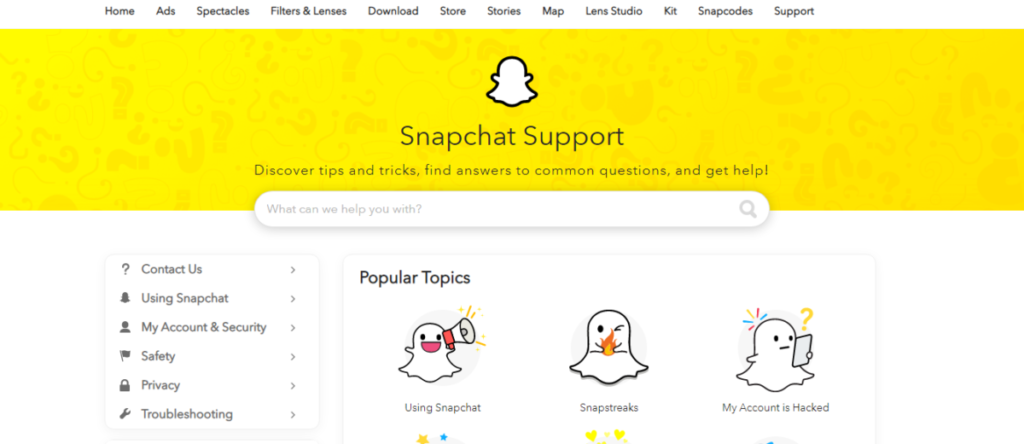 There are two methods to reset your lost or forgotten Snapchat account using the official site. Resetting is possible without knowing any phone number of yours, neither it requires you to enter your mobile number anywhere during the process. These websites/apps will help you in resetting and recovering your Snapchat account without knowing any phone number.
Method One:
Follow these steps to reset or recover passwords from the website of Snapchat, if you have access to a computer/laptop/notebook etc., with an Internet connection and a working web browser like Google Chrome, Mozilla Firefox, etc.
Open a new tab in your web browser and visit this link.
Enter your username or email address in the field provided. If you do not have any login information, simply enter a new "temporary" password which can be changed later on after the resetting process.
Click on the 'Submit' button to submit a request for resetting the Snapchat account.
That's all! You will receive an email in your registered email address linking to the reset request.
Method Two:
If you can't access a computer or laptop, use this method instead and follow these steps to recover the Snapchat passwords from a mobile device such as a smartphone/tablet, etc., with Android/iOS operating system installed on it. This alternative is only for users who have access to their mobile phone and email address that is linked with their Snapchat account.
Open the official app of 'Find my Friends' on your smartphone/tablet which can be downloaded from the Google Play Store or Apple App Store depending upon the operating system installed in it. (You need an active Internet connection for this step)
Once downloaded and installed, launch the app. Allow it to access your location by tapping on 'Allow' or 'OK.'
Once you have allowed the proper access, tap on the 'Friends' tab or option. You will see a list of all friends currently using Snapchat. Scroll down and select your username from the options given below it. This is how you can recover a lost password without your phone number in the Snapchat app.
If you do not find your username in the list, tap on 'Nearby friends.' It will show all users whose location is nearby to yours. If it still doesn't show up, try refreshing by tapping on the 'Refresh' option below the list of usernames.
That's all! Your Snapchat password has been recovered successfully from the Find my Friends app.
If you have tried all these three methods and still, cannot recover Snapchat without your phone number then, unfortunately, there is nothing more that can be done with a device that has been deleted or lost. You must contact the customer service of Snapchat regarding this issue as they might help you depending on their policies for such cases.
Tip: Change Your Password Time And Often
Changing password time and often for your Snapchat account is the best way to protect it. The longer you wait, the more chance there will be that someone could pick up on what you are doing if they somehow got their hands on your device.
Your Snapchat account hasn't been hacked doesn't mean it will never be hacked.
If you need to reset your Snapchat password, follow the steps below.
Open the Snapchat app.
Tap on the cogwheel icon.
Select "Password" under the "My Account" header.
Enter a new password and confirm it.
To prevent your account from being hacked again, make sure to change the passwords frequently.
Frequently Asked Questions(FAQs)
It's time to clear some of your doubts regarding the Snapchat app again. Go through this list of FAQs and see if any answer was left out.
Can I Disable My Snapchat?
Yes.
You can disable your Snapchat account temporarily (though this isn't recommended) via mobile app, website, or using email which will not require entering any phone number that might be used to recover the account again after disabling it if you wish to use it in future. However, there are various ways to disable any account for Snapchat.
Is It Possible To See Snapchat History?
Yes.
Even if you have deleted the snap from your device without saving it on Snapchat servers, there are various third-party apps that allow you to do so. Snaphack is one of them which allows users to save snaps sent by other users even after they've been opened and then deleted again along with their viewing history. You can also use Snapsave which works the same way as Snaphack.
Can Snapchats Be Recovered By Police?
No.
Since Snapchat doesn't save the images on their servers, there is no way to recover a snap that has been deleted from both parties' devices by police or anyone else other than the person who first received it and then saved it using a third-party app like Snaphack or Snapsave which isn't illegal in any way.
Wrapping Up
I hope this article soothed you if you entered here panicking while you wondered how to recover your Snapchat account.
Since there are various ways of doing so, it's pretty easy for anyone who knows their way around technology and is good at following instructions.
Remember that the best thing you can do is change your password frequently just in case someone has gotten a hold of it somehow or if they're trying to get a hold of it.
That's it.
Thank you for reading.