You guys certainly must have noticed that some filters are available only in a specific location. You ever wondered how such location-based filters are created? Ever had a desire to create one of such? If yes, You're exactly where you ought to be. The geographically-based filters are called Geofilters. Here's a step-by-step tutorial on how you can create your own geofilter.
Creating your own Snapchat geofilter (also geotags) is a 6 step procedure that might require some graphic designing skills as well as the use of graphic designing programs. To make your own geofilter: Open your browser-> Go to Create Page-> Upload the filter-> Add date and time->Choose the location->Checkout.
Need more detailed information? Below is the step by step guidance on how you can create your own Geofilter:
How To Create A Snapchat Geofilter/Geotag On Your PC?
Whether you want to fetch the attraction of a mass of people for business purposes or for showing off your own fancy personal events, Geofilters turn out to be the most effective as they are cost-effective, easily usable, and eye-catching.
Want to follow the trends that you see on Pinterest for your wedding, birthday parties, or business promotions? Show off your important events to the whole community through Snapchat Geofilter. Here's how you can create a Geofilter.
Step 1: Go To Snapchat Geofilter Website
To create a Geofilter, open your browser and visit the website https://create.snapchat.com .
Step 2: Go to Create Page
Once you opened "Snapchat Create", the first thing you will see is the "Create Your Own" page a.k.a Create Section.
If by any chance you are not landed on the "Create your Own" page, click on the hamburger menu and expand the left horizontal navigation menu. From there click on "Create" menu item; you will land on the "Create Your Own" page.
You need not worry if you don't have the professional skills to create graphics; you can also create a geofilter by using the pre-present tools on Snapchat.
Step 3: Upload Or Design Your Filters
There are two ways you can create your Geofilter. The first is uploading the files that you have designed by using graphic designing software like Adobe Photoshop, Adobe Illustrator, etc. Another option is to create your filter using Snapchat tools.
Uploading Your Filter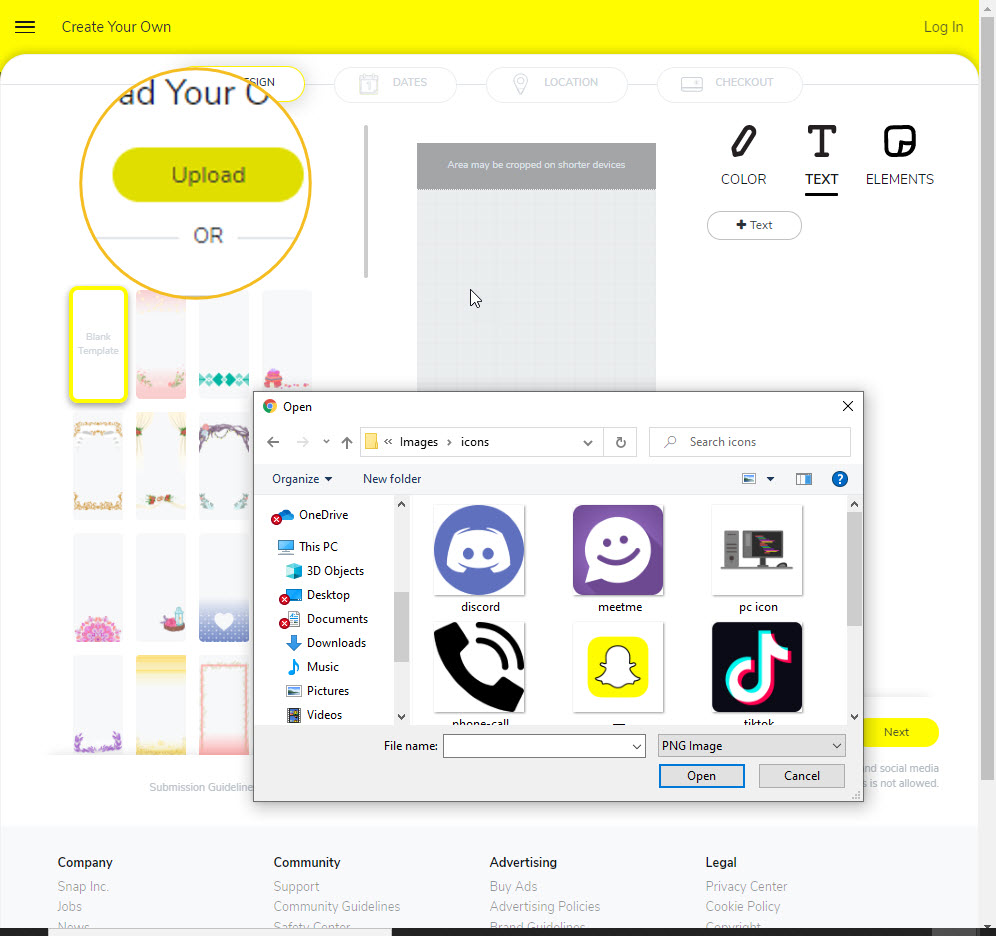 Do you have graphic designing skills? If yes, Snapchat can be a great platform for you where you could show off your skills. You can create an amazing design through different graphic designing software and upload it to create your own Geofilter. Your creation might turn out to be a favor to millions of Snapchat users around the world.
To upload your filter, tap on the "Upload" button that you see in the top left corner of your screen. Make sure your file meets the requirements.
Choosing Existing Filter
It's okay if you lack designing skills. In fact, it doesn't make much difference at all. You can always create a Geofilter by using the existing tools on Snapchat. You can modify the fonts, bitmojis, texts, stickers to create a filter of your choice.
Quick Note: You can find varieties of Templates available in Adobe Photoshop and Adobe Illustrator that might perfectly fit your desired occasion.
Step 4: Add Date And Time
Adding the Date and Time is a step where you need to be really careful. Your geofilter will be active only for the duration that you set here.
Adding Date
You can add the date by setting it on the Calendar on the left side of your screen. You need to add the dates on which you want to launch your filter as well as the date you want the availability of your filter to end.
Adding Time
For adding the time, tap on the tool that appears on the right side of your screen. Set the time duration between which you want your Geofilter to be live each day.
Step 5: Select The Location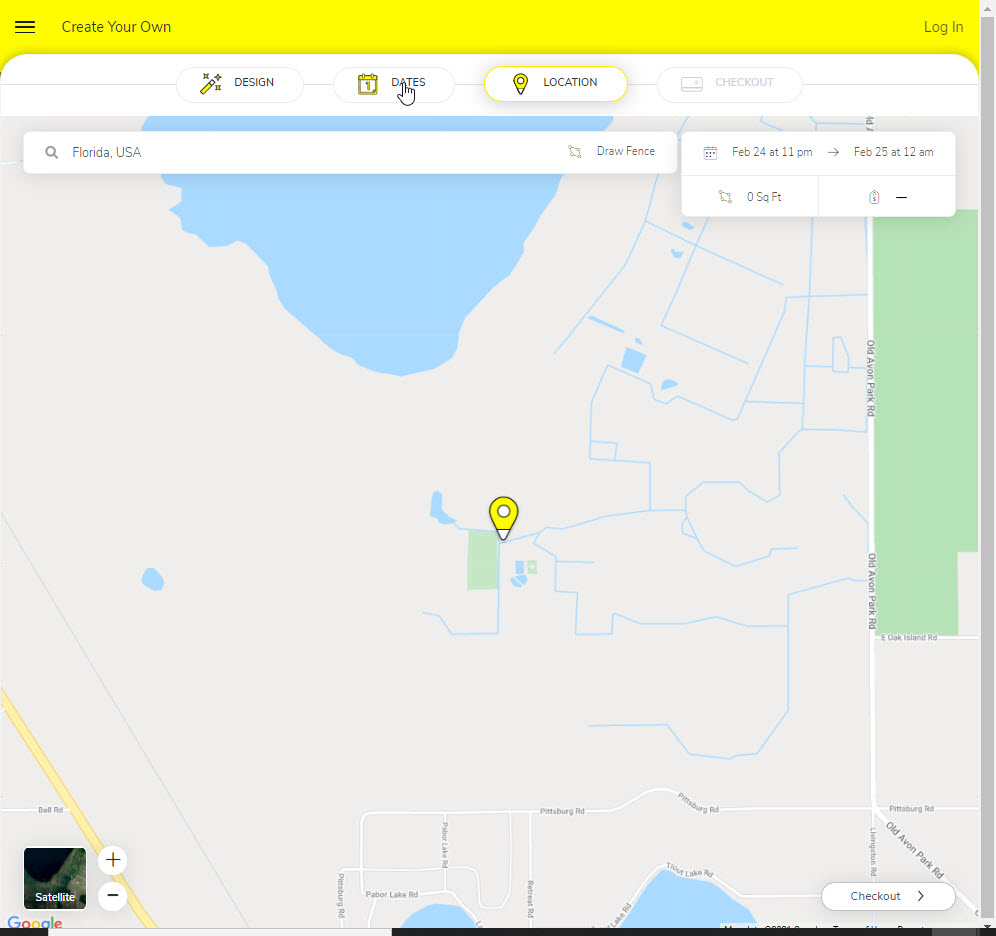 The specialty of Geofilter over the normal filter is that Geofilters are available only in a certain region. So, you need to select the area you want your "Snapchat geofilter" to cover too.
Enter the name of the city or area that you want to cover on the search bar.
If you want to select a specific area, the "Draw Fence" tool is to your rescue. You can draw a circle using the tool and select your desired location.
Step 6: Fill the form And Checkout
After you have selected your desired location on which you want your Geofilter to be active, you must tap on the "Checkout" button. You will see numbers of empty details that you need to fill up (such as your email address, name, payment method, etc.)
Filled in all the required documents, right? Now go confirm your creation by tapping on the "Submit" option.
We are all done here. However, you may have to wait for somedays to hear from Snapchat whether your Geofilter is approved or not.
How To Create Snapchat Geofilter/Geotag On Your Phone?
Not so compatible with using a PC? Relax; you can create one on your phone too. Creating a Geofilter on Snapchat on the phone is just as similar. The only difference is that you cannot upload the external files to create a Geofilter, meaning you can design it using the available Snapchat tools only.
Designing Filters
The first step towards designing the Geofilter is Choosing the Filter. Below is the step-by-step pictorial guide on how you can create a Geofilter on your phone.
Tap on the "Settings" options and click on the "Filters and Lenses."
You'll see the "Filters" and the "Lenses" option. Tap on "Filters."
A list of occasions will be displayed on your screen. Choose the specific location you are creating the Geofilter for.
Then, you can add texts, emojis, and bitmojis of your choice.
Setting Date And Time
Setting "Date and Time" is pretty easy while you use your phone. Just enter or swipe the date and time you want your Geofilter to go live and end.
Adding Location
Unlike on PC, Snapchat suggests default location for the availability of your Geofilter. Not happy with the default location? Don't worry; you can always customize by choosing your desired location.
Checkout
This is probably the last step you need to complete for creating your Geofilter. After you have added the location, the cost is displayed on your screen along with the other details. Remember, this is your last chance if you want to edit any of your customizations. If you are happy with your work, send your Geofilter to the Snapchat Team for approval by clicking the "Check out" button.
What is Snapchat Geofilter(Geotag)?
Snapchat Geofilters are just like the normal Snapchat filters, but it differs on being localized to a certain area only. Just like the normal filters, you can see texts, emojis, or stickers overlaying on the screen while you are snapping.
Creating Geofilters for business promotions, community occasions, and local festivals have been a trend for almost 3 years now. Hurry up to create your own Geofilter so that you are up to date with the latest digital trends.
(Tired of trying to access geofilters on your pictures but haven't succeeded yet? You cant use Snapchat Geofilter without permitting Snapchat to access your location. So, permit Snapchat to access your location so that you can enjoy the Geofilters available.)
Types Of Snapchat Geofilter
If you are wondering whether all Geofilters are the same, let us enlighten you. Below is a brief description of the 3 main types of Geofilter.
Community Geofilter
A geofilter that is localized for a specific community is known as Community Geofilter. If you want to share your joy over certain occasions or holidays, Community Geofilter is for you. Remember, these types of filters are available only for a certain specific time. Keep in mind that you cannot use Community filters for your private events such as birthday celebrations, weddings, etc.
Sponsored Geofilter
Do you want your business to flourish online? Sponsor Geofilter may be of great help. You can create, purchase a sponsored Geofilter on Snapchat to advertise your Business, stores, etc.
Sponsored Geofilter is mainly used by a big company as the Sponsored Geofilter might turn out quite expensive.
On-Demand Geofilter
Want to add colors to your special personal events? Try creating an On-Demand Geofilter. You can have your text, stickers, or pictures overlayed over your photos or videos for personal events like Birthdays, weddings, new restaurant launches, etc. Grab some attention in a cool way by letting people know your life events, creating one of such filters.
How To View Snapchat Available Geofilter?
Take a snap ( Can be Picture or Video)
Swipe left/right to view available Geofilters.
Pro Tip: If you want to use Snapchat Geofilter from a different location than yours, you can always use VPN to access it.
Guidelines To Follow While Creating A Geofilter
Everything in the world is bound by certain rules and regulations and so is Snapchat Geofilter. Here are the guidelines to follow while creating one.
Your design must be 100 percent original.
Your design must not suggest any sort of partnership with Snapchat.
Your design must be self-created and not photos.
Your design cannot promote illegal activity, dangerous stunts, or something that goes against the community guidelines.
Your design must not be offensive to any community, group, or stereotype.
Your designs cannot include Snapcodes, phone numbers, URLs, etc.
You need to make sure your design does not promote any kinds of political advertisement.
Your design should be in.PNG format.
Your design should have a width of 1080 px and a height of 2040 px.
Your design should not contain hashtags, logos, or trademarks.
For more guidelines, check out Advertising policies.
Dimensions Of Snapchat Geofilters
Is your Snapchat Geofilter not being approved despite using the required tools? It might be because your Geofilter does not fulfill proper dimensional requirements. Check out the below points to know what dimensional criterion you are missing on your Geofilter.
The foremost thing to keep in mind while creating a geofilter is that your files must have a width of 1080 px and a height of 2340px.
You can't include any sort of stickers or overlays that might not be visible over the buffer zone.
Transparency is another pre-requisite element that you need to be careful of while creating a Geofilter. You cant create any sort of overlays, texts, or pictures that blocks the original videos or pictures. Play it smart, guys!
Make sure your file is in ".PNG" format and not more than 300 KB.
Cost Of Snapchat Geofilters
Just like any other stuff on the planet, the cost of all Snapchat Geofilters is not the same either. Numerous factors create variation in the cost of Geofilters. However, most of the time, the main criteria are the longevity of time you want your Snapchat Geofilter to be available for and the size of the location you want to cover.
On average, Snapchat Geofilter costs you around $5 per 20,000 per square foot.
Performance Of Your Filter
It's obvious that you want to know how well your filter performed. The Snapchat team totally gets you. They let you measure the success of the filter in terms of Views and Uses. Snapchat might take a day or two to display these statistics once the time limit of your filter has been expired.
Frequently Asked Questions (FAQs)
Is It Free To Make A Snapchat Geofilter?
Snapchat allows you to promote your events at a minimum cost ranging from $5 to $20 per 20,000 per square feet. However, if it's for the community filter, Snapchat does not charge you; it's totally free.
How Long Does It Take For Snapchat To Approve A Geofilter?
Thousands of people submit their Snapchat Geofilter for approval every day. However, Snapchat has recruited a big team to work on your service who you will hear from. Generally, People get to hear from the Snapchat team within a week or two. Whether your geofilter is approved or not, you" ll be notified either way.
Conclusion
Now that you've enough knowledge about Geofilters and how you create them, have fun making one. The other Snapchat users are obviously gonna be thankful to you for seeing a new Geofilter available on their location. What a perfect way of virtually blessing people and making their day, Whoa!