How many times have you thought about deleting your Skype account? If the answer is more than once, it may be time to actually do so. In this blog post, we will discuss how to delete your Skype account and why you should take that action. I have gathered a number of steps on how to complete the process and some frequently asked questions and other helpful information that will help you make an informed decision about what should happen next.
To delete your Skype account on Desktop:
Open Skype and go to "Account."
Click on "Delete your account or services" at the bottom of the window
Type in a reason for deleting your account, then click continue.
Enter your Microsoft account password, then click "Delete" to confirm that your wish is granted.
To delete Skype on Mobile:
When logged in on a phone or tablet, go to Menu > Settings
Scroll down to the Skype Account section and tap on Delete your account or services.
Finally, click delete my profile data & usage info when you completely remove your Skype account.
Type in your password to confirm.
Read this article till the end to get a more comprehensive answer about deleting your Skype account.
How to Unlink Microsoft Account before Deleting Skype
It's important to unlink a Microsoft account from Skype before deleting it. This is because if the Microsoft account is still linked, you won't be able to delete your skype profile and will mess up with two different accounts, which seems a bit weird and time-wasting activity.
Unlinking Microsoft Account From Skype is easy, but for that, you need to be logged in with your Microsoft account.
Go to settings on skype
Navigate to the "account" section
Here click on the "Unlink Microsoft Account" link
A pop-up will appear asking to confirm that you want to unlink the account. Click ok, and you are done with unlinking skype from your Microsoft account.
How To Delete A Skype Account?
If you are thinking of deleting your Skype account, you should know that there is a process to follow. This article will describe how to delete your skype account on both desktop and mobile phones.
How To Delete A Skype Account On Desktop
Do you use Skype on your computer? Are you worried that it's difficult to delete your account? Don't worry; here are some easy steps to help you out.
Step 1: Open Skype And Go To "Account"
First of all, open your Skype application and go to the "Account" tab.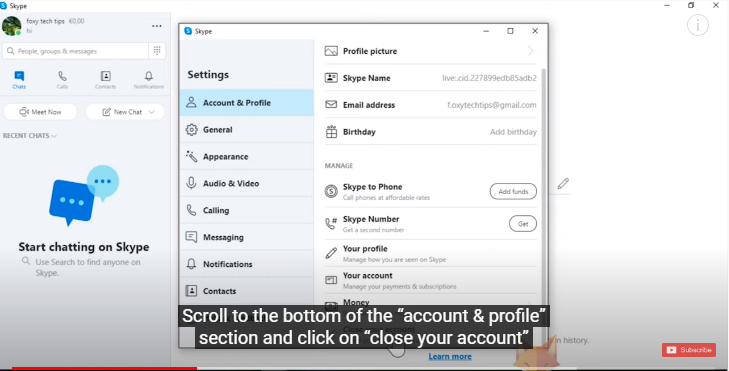 Step 2: Click On "Close Your Account"
Once you're on the account page, click on the delete button that's available right next to where your username is written. You will be prompted with a warning message about deleting your account, saying, 'Are you sure you want to delete your Skype account? This cannot be undone.
Click on the button that says "Yes, Close My Account."
Step 3: Select A Reason For Deleting Your Account, Then Click Continue.
Now, you will be asked to select a reason for deleting your account. This step is compulsory and cannot be done without selecting anything in the option that says, "Please give us some feedback."
Step 4: Click "Delete Account" And Enter Your Microsoft Password
After typing in your reason, click on the "Delete Account" button. You will be prompted to enter your Microsoft password for verification, so type it in and press "enter."
Your account has now been deleted! Well done!
How To Delete A Skype Account On Mobile
Deleting a Skype account using your phone is a relatively simple task. The steps are simple and easy to follow. Here is what you need to do:
Step 1: Launch The Skype App
Install the Skype app from AppStore or PlayStore if you haven't already. Then, open the Skype app on your device.
Step 2: Tap On Skype account
Once you're logged in, tap on the "Skype Account" option at the bottom of your screen. It's on the right side of the menu with a picture that shows an account, email address, and two circles. Then, open "Settings."
Step 3: Tap On The "Account and Profile" And Select "Close your Account" Option.
Tap the "Account and Profile" option in the Settings Page. Then, scroll and select "Close your Account."
Step 4: Tap "Delete My Profile And Usage Info"
This is the final step, and it will confirm the deletion of your Skype account. You have to tap this button in order to complete the task successfully. Once you do so, you might have to re-enter your password.
Please wait for a few minutes until all information about your Skype account gets deleted permanently from their servers.
Note that your Skype contacts, messages, and other information will not be deleted automatically. You have to do it manually if you wish so.
Why Delete Skype Account?
Are you confused if you want to delete your Skype account or not? You are not the only one. A lot of people are in a dilemma about removing their Skype account. This is because they do not know the benefits of deleting it, and you will be one among them if you are new to this world of internet marketing business or blogging. So, let's find out some reasons why should we delete our skype accounts:
– Helps you to save money
– No spam messages in the inbox
– You will be able to focus on what matters most for you
– You will get more control over your time
– More space for new opportunities
– No fear of security threat
I hope now you are clear on what you want to do with your account.
Can I Recover My Deleted Skype Account?
Yes, you can. However, if you have deleted and emptied your Trash and removed the Skype application from your computer, then there is nothing you can do to recover it. If you have not deleted anything from your account, then log onto your Skype profile and click on "restore." Then, follow the instructions on this page.
If you unlinked your Skype account but did not delete anything off of it, then log onto your Skype profile and click "restore." Follow the instructions that appear on your screen.
How To Cancel A Skype Subscription?
Yes, if you no longer want to use Skype because you are dissatisfied with their services, you can cancel your subscription. Follow these steps to cancel it.
First, log onto your Skype profile.
Then click "account."
Next to the words "Premium Subscription," you will see a link that says "view details/cancel the subscription." Click on this and follow further instructions as they appear on your screen.
Your subscription will be canceled, and your account will no longer be charged.
Frequently Asked Questions(FAQs)
Now, let's talk about the questions that get asked a lot. There are only three, but they're important! So don't skip this part – read on to know what happens when you delete your Skype account, why to delete your account, and how long it takes for the Skype Team to do so.
Q: Does Skype Delete Unused Accounts?
A: Yes, Skype deletes unused accounts. If you are not using your account anymore, it will be deleted. However, there is no set time frame for how long this takes to take place and can vary depending on the usage of the account itself and any previous purchases you have made.
Q: How Long Does It Take For Skype To Delete Your Account?
A: It takes about 30 days before Skype deletes an unused account. However, you can always contact their support team if you need assistance with the deletion process.
Q: Why Delete Your Skype Account?
A: You should consider deleting your Skype account if you are not using it anymore. If this is the case, your information will be safe and secure without being compromised in any way whatsoever.
Wrapping Up
In a nutshell, deleting skype is an easy process and can be done using both computers and mobile phones. Unlinking your Microsoft account is the first step you need to take before deleting skype. After that, you can proceed with the deletion process.
Follow the method that is convenient for you.
If you have any questions about deleting the skype account, just comment below in the section. I will be happy to help you out!
References: