Happn is a dating platform that connects you with people who are near you. It's like Tinder, except it uses your location instead of matching users based on preferences and interests. Happn Premium is the paid membership version of the app, which features an improved matchmaking algorithm and more in-depth profiles for its members. If you're unsure about whether or not to sign up for this service, I've compiled everything you need to know about Happn Premium right here!
To get Happn Premium,
Firstly, navigate to "My Account."
Go to in-app store which is in the top-right corner of the "My Account" page.
Now, tap the "+" or "Need FlashNotes" button.
Happn must suggest you a premium version now. Confirm it by tapping on "Upgrade."
Choose your subscription plan, enter your billing details and upgrade your Happn account.
Keep reading the article to learn the basics of Happn Premium.
About Happn
Happn is an online dating platform where people connect by using their location data. Unlike Tinder, Happn uses your exact GPS location to locate singles near you. So if you're at a bar or restaurant and see someone that piques your interest, just open up the app to find out how close they are!
There are more than 30 million people on Happn worldwide, so it's certainly worth checking out. If you decide to sign up for premium membership with this platform, here's everything you need to know about the service!
What Is Happn Premium?
Happn is available in two versions: free and paid. The free version lets you create a profile that you can browse through, like and dislike other users based on their profiles, view mutual likes (if you both swipe right), and get notifications when one of your matches is nearby.
The paid version – Happn Premium – offers additional features to enhance your experience with the app! In addition, the premium version of the platform enables you to do a lot more, such as:
See Who Likes You First – If someone likes you before you like them, they will appear first on your "Likes You" list. This gives you the upper hand when it comes to starting a conversation!
See Who's Been Checking You Out – There is no need for guesswork with this feature; Happn lets its Premium users see who has been viewing their profiles throughout the day. This will let you know if your crush is checking up on you or if that person who keeps "liking" all of your photos is worth pursuing!
Get More Exclusive Profiles – Your daily matches will include more people with this upgrade. This means it's easier to meet someone special since there are fewer profiles for you to go through each day.
Features Of Happn Premium
If you're still wondering if it's worth upgrading to the paid version of this online dating platform, here are some more features that make the upgrade totally worth your while. With premium membership, not only do you get access to great new features, but you also receive unlimited likes and chats! In addition, there is no limit to the number of people you can interact with, which is great if you are looking to expand your dating horizons.
Premium users also get a whole new set of filters that they can use on their profiles. As a result, you no longer have to worry about being too specific or not detailed enough when it comes to listing what you're into – this upgrade lets you choose from a list of pre-selected interests and activities, so the only thing you have to worry about is filling out your profile!
More in-depth profiles – Happn Premium members get to see more information about their matches. You can find out someone's occupation, education level, and income range right on the app!
Improved matchmaking algorithm – This means that you're much less likely to be matched with people who aren't your type. With this enhanced matching technology, you'll only be presented with matches that you'll actually like.
More control over your Happn experience – With a premium membership, you can change the distance range in which you're shown other users as well as how many profiles are displayed on your feed at any one time. You also have more power to manage who views your profile and sends messages to you.
Ad-free experience- There are no annoying ads on this app, so you can enjoy your Happn experience without viewing any unwanted content.
Invisible mode- Easily hide your profile by choosing whether or not it's displayed on the app. You can also use this feature to see who has viewed you without letting them know that they were caught in your crosshairs!
Video Call- Want to see if they look as good in person? You can use the video chat feature to start a conversation and find out!
Happn Premium Cost
The cost of Happn premium membership varies depending on the type of subscription you choose and how long you sign up for. There are three different plans to choose from: one month, six months, or twelve months.
The cost for a month-long plan is $24.99, 6 months is$89.99, and $119.99 for 12 months.
You can choose any of these options to pay for your subscription using PayPal or any major credit card.
All purchases are final and cannot be refunded, so make sure you're ready to commit before hitting the purchase button!
How Can I Purchase Happn Premium?
Don't worry whether upgrading to a Happn premium membership is a tough process. The procedure is simple and requires just a few quick steps to complete.
Here's how you can upgrade:
Step 1: Open The Happn App
First of all, make sure you have the Happn app downloaded on your phone. From there, simply open it and log in to start using it!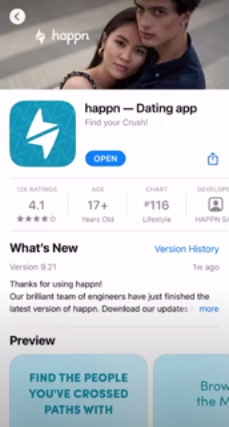 Step 2: Navigate To "My Account."
Next, you want to navigate to the "My Account" section of this app. You can reach it by tapping on your profile photo, which is located in the top-right corner of the screen.
Step 3: Tap The "Upgrade To Happn Premium" Button
Now, tap on the button that says, " Upgrade To Happn Premium." This will bring you to an upgrade page where you can choose which plan is best for your budget and needs.
Step 5: Choose Your Subscription Plan
Select the type of subscription plan that works best with your personal preferences, as well as how much time you want to use Happn premium features. Then, select how long you would like this membership added to your existing account.
Step 6: Enter Your Billing Details And Upgrade!
After choosing your desired plan, you'll be prompted to enter your billing information. Once that is entered and confirmed, the process of upgrading will be complete! Congratulations on becoming a Happn premium member!
Enjoy your Happn experience to the fullest!
How To Cancel Happn Premium Subscription?
You dont have to worry if your Happn premium will be automatically renewed. You can cancel your subscription anytime you like, and it won't affect the rest of your current month or billing cycle, so it's always best to go ahead and take care of this while you've got a moment to spare!
Here's how:
Visit happn.com and log into your account.
Click on your profile icon to go to your Account Page.
Select your subscription plan and then click on the "Cancel Subscription" option.
Confirm that you want to cancel your Happn Premium membership by selecting Cancel my account, or Submit if you're ready for this process to be done!
And that's it. You can also cancel the subscription for Happn Premium in your Google Play Store or AppStore.
Should I Switch To Happn Premium?
Now, the real question is, should you upgrade? Well, it all depends on your personal preferences and what you want from a dating app. If affordability is important to you, then the basic Happn account is the best choice.
However, if you do have a little extra money to spend and are looking for different features that can enhance your dating experience with Happn, then upgrading is the perfect solution!
I have tried the free version of Happn and was a little disappointed after seeing that I did not have access to premium features. Also, from my experience, the pop-up ads were very annoying because they would constantly show up on my screen when using this app which really took away from the dating aspect of it all.
To continue using Happn, I had to purchase Happn Premium and continue using the same account. This was a bit confusing at first because most dating apps require you to create an entirely new profile, but with this one, you can use your current account if you share it with someone else who has their own premium membership. I must say I am quite happy with the Happn app now that I have upgraded.
Is Happn Premium Worth It?
I can honestly say that I am delighted with Happn Premium and think it's worth the price. However, the app is pretty basic in its free version, and upgrades offer many more features to enhance your dating experience.
I do feel like I spend a lot of money on all the different dating apps. Still, Happn Premium was well worth it for me because it provides you with many additional benefits such as unlimited likes, promoting yourself to increase your chances of being seen by others, and the ability to see who has liked you before you swipe.
In my experience using this app for about three months now, I have found several things to be true:
The Happn app is very comparable to other dating apps on the market.
I have found that their customer service support team was extremely helpful whenever I had any questions or issues with my account.
The ad-free experience is really nice and I appreciate no longer having to deal with pop-ups.
The new features added by Happn Premium definitely make the app more worth it especially for those who are serious about finding a long-term relationship on here.
The Happn algorithm actually works, and the more you use it, the better your results will be.
The Happn community is actually quite large (even in my small city), which doesn't come as a surprise considering how many people are using dating apps these days!
If you've tried other dating sites or apps but weren't very happy with them for whatever reason, then I would definitely recommend you to give the Happn app a shot.
Frequently Asked Questions(FAQs)
You must have some more questions regarding Happn, right? Then it's the perfect time to explore our Frequently Asked Questions(FAQs) section.
Is Happn Premium Better Than The Happn Basic?
Of course. The premium version offers many additional features and will enhance your experience with Happn.
Can You Use Facebook To Sign Up For An Account With Happn?
Yes. You can use Facebook to create your account on Happn and connect with friends who are already using the app as well. You can also use the Google+ account.
Is Happn Safe For Homo And Bi Sexual People?
Yes. Happn is a dating app for everyone as long as you are single! Keep in mind that it's not only about getting dates but also making new friends with common interests or who share your lifestyle. So, Happn is not only for straight people but also open-minded singles.
Is Happn Free To Use?
Happn offers both free and paid memberships. The free version only allows you to use the app, but with a premium membership, you can get access to all of its features and enjoy an ad-free experience.
Conclusion:
You are awesome for reading this blog post all the way to here, and I hope that it has helped answer some of your burning questions about Happn Premium. If you have more follow-up questions, feel free to leave them in the comments section below. If not, then I would definitely recommend that you give the Happn app a try because it works. You can thank me later 🙂
Reference:
https://www.youtube.com/channel/UCqI09ccqikttGbI4-g0-IAQ/featured