Snapchat is one of the most popular social media apps in existence today. Although many apps help you stay connected with your friends worldwide, Snapchat has a unique feature where you can send your everyday story in a single snap. The snaps allow you to live the story with your friends rather than hearing it from them through texts or calls. That is why Snapchat is loved by millions of teenagers across the globe.
Although Snapchat is now a juggernaut social media platform, its infamous issue "Black Loading Screen Stuck On Tap To Load" persists.
The fix is simple, but it is a nightmare for someone without a tech background. For example, Snapchat sometimes shows an issue where you see a black loading screen that says "tap to load," The snaps still do not display after you tap on it. The most common solution to this problem is to check what's disturbing your app. Checking internet connections, clearing app cache, updating the app, restarting your device are some solutions to your problem.
This article will guide you step by step on fixing the "Snapchat Black Loading Screen Stuck On Tap To Load" issue.
How To Fix The Snapchat Black Loading Screen Stuck On Tap To Load Issue?
Here are some of the methods that can help you fix this issue:
Enable Airplane Mode
Most of the time, if you find a problem in any of your app or your device itself, it might be due to an unstable network. For example, an unbalanced network signal causes the Snapchat app to load improperly, thus causing a black loading screen stuck on the tap to load option.
In such time, you can try putting your phone into the Airplane mode, then switch it back to normal after 10-15 seconds.
Steps To Toggle Airplane Mode For Android Device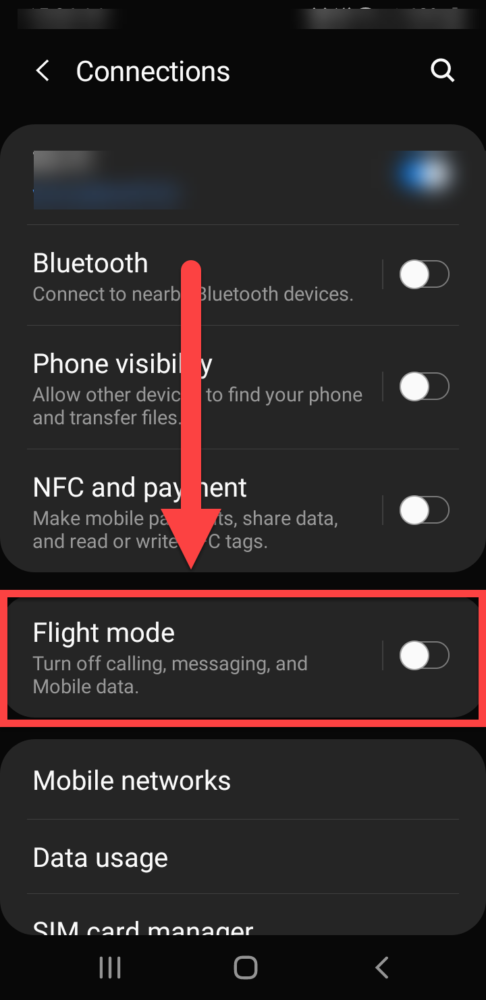 1. First, tap on Settings.
2. Then, Tap Connection & Sharing.
3. Now, Tap the toggle next to Airplane Mode.
4. The phone is now in Airplane Mode. Toggle it back off to disable airplane mode.
Steps To Toggle Airplane Mode Toggle Steps For iOS
1. Open Control Center on your iOS device.
2. Then tap the Airplane Mode button to enable Airplane Mode.
3. Finally, toggle it back off to disable Airplane Mode.
4. Or, you can drag up your control panel and tap on the Airplane icon to enable and tap on it again to disable the Airplane Mode.
Restart Your Device
Another way to fix the "black loading screen stuck on tap to load" issue in the Snapchat app is rebooting the device like any other technical issue. So if you face this issue while using the app, try restarting your device to give it a quick reboot.
Try to switch off your device and switch it back on. This refreshes your device along with clearing any background cache that might be slowing your device and, in this case, your snaps.
Restarting On Android
First, press your phone's Power Button (the button that locks and unlocks your phone) for about 30 seconds.
Then, you will see a Power Off, an Emergency Mode, and a Restart button on the screen. Tap on Restart to reboot your device.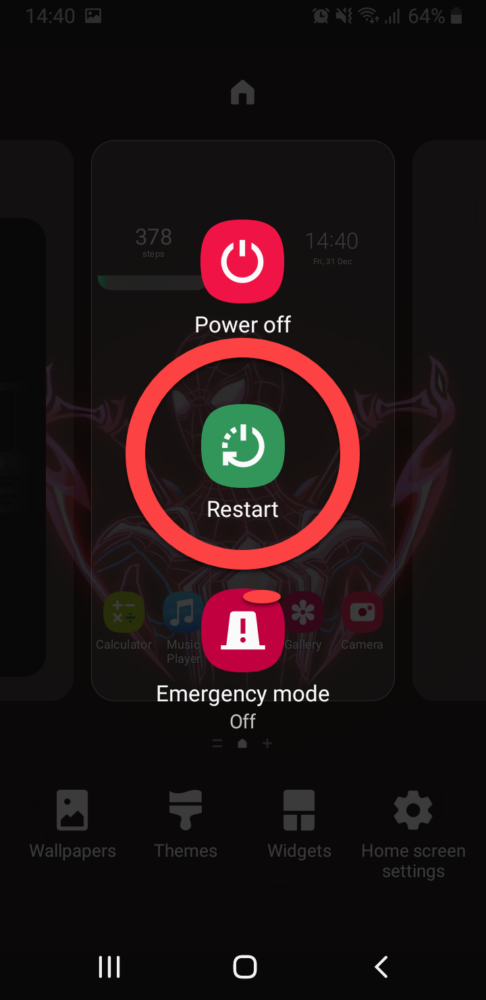 Restarting on iOS
To restart your iPhone or iPad, follow these steps:
First, press and hold either one Volume button or the Power button (that locks and unlocks your phone) until the power off slider appears.
Then, slide the arrow in the given direction to turn your phone off.
To turn it back on, press and hold the Power button until you see the Apple logo.
Clear The Snapchat App Cache
App cache is the app data that is stored on your device. Your device starts collecting the app cache whenever you use any app. The accumulated cache can cause app crashes, buffering, black screens, and loads of other problems. One of the ways to fix the problem is to clear the cache of Snapchat.
There are two ways you can do this on Android and iOS. They are:
Clear Snapchat Cache from Settings (for Android only)
This feature is applicable only on Android devices. You can clear the cache of any said app that is not functioning correctly via the android settings.
To clear the cache, open the device settings and follow the given steps:
Tap on Apps & notifications
Tap on the See all app option, and find Snapchat.
Then, tap on Storage & cache.
Tap on Clear Cache, and you're done!
Clear Cache via App In-app Settings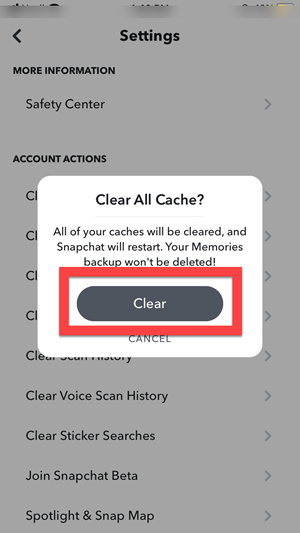 If you have an iOS device, you can clear the app cache through in-app settings. You can use this on androids too.
Open the Snapchat app and follow these steps:
First, tap on the Profile 👩 icon at the top-left corner of your screen.
Then, tap on the Settings ⚙️ icon at the top-right of the screen.
Next, scroll to the bottom and tap on Clear Cache on the appeared page under Account Actions.
In this way, clearing your app cache can help you load your friends' snaps without missing a beat.
Update Your App
Sometimes, apps malfunction because they are not updated to their latest versions. To avoid issues such as the "black loading screen stuck on tap to load option," ensure that your app is up to date.
Go to the Play Store on Andriod or App Store on iOS and check if updates are available. If you find one, update your app, and it will probably solve the problem
Here's how you can update your app:
App Update On Andriod
Open the Play Store and follow the given steps:
tap on the hamburger icon on the top-left.
Then, tap on My apps and games.
Suppose you see that your app requires an update, tap on the Update option. You will get the updated version of Snapchat that will run smoothly.
App Update On iOS
Open the App Store and follow the given steps:
First, tap on the profile icon at the top-right corner of your device.
Then, check if your app requires an update. It'll show a little Update button on the side if it does.
Tap on it, and you're good to go.
Check Your Internet Connection
Often, the lagging issues lie not on your app or your device but your internet connection. For example, the Snapchat app uses the internet to send and receive photos and video data. Therefore, a slow or unstable internet connection might be the primary cause of the black screen loading error on Snapchat.
Some ways to fix your internet connection issues are:
If you are using a wireless connection, try to reposition your router or refresh it turning it off and again on.
Try switching to cellular data from WiFi or vice-versa.
Contact your internet service provider.
This will undoubtedly help fix the loading problem on your Snapchat app through a solid and stable connection.
Reinstall Snapchat
If the "Snapchat black loading screen stuck on tap to load' error continues, the next best option is to uninstall and reinstall the app on your device. All persistent issues will go away with reinstallation, as all the collected data slowing your app function will disappear.
Reset App Preferences
You can reset the app preferences to factory default to overcome the tap to load issue. Here's how you can do it: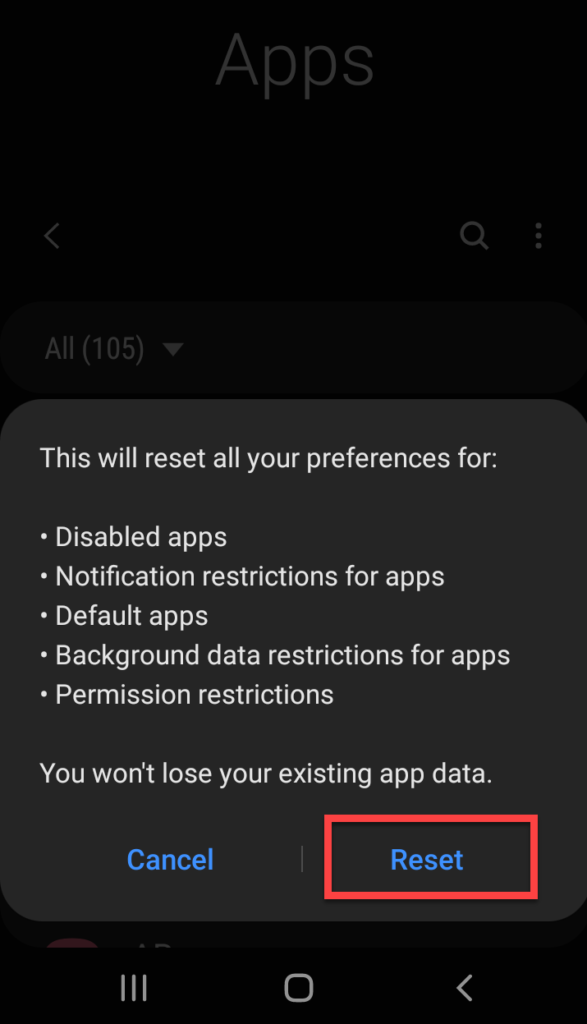 First, open your phone's Settings and tap on Apps & notifications.
Next, tap on Show all apps.
Tap on the three dots option in the top-right
Then, select Reset app preferences from the dropdown option.
Check If Snapchat Is Down
If none of the above methods work, it might be that the whole app server is down. When Snapchat servers are down, you might face issues like a black loading screen, app not opening, and as such.
One way to check if the app is down is by checking their official Twitter handle, where they give regular updates on app news. Another way is to check if the server is down is through third-party websites like Downdetector.
Frequently Asked Questions(FAQs)
What Are The Add-On Solutions To Fix The "Tap To Load" Glitch On Snapchat?
Apart from the fixes given above, if your Snapchat app still shows the "black loading screen stuck on tap to load" issue, you might want to check and disable your phone's battery saver mode, which might be stopping your app from running smoothly.
What To Do When Snapchat Won't Open Snaps?
It is unclear why the glitch occurs, but sometimes the Snapchat app fails to load your snaps. In such a case, it is best to check your internet connection once. If your network seems to be working well, the Snapchat server must have gone down. Closing and reopening your app might be easy to solve the problem.
Conclusion
Snapchat is built to support hundreds of millions of users worldwide. So naturally, such vast platforms will eventually have some errors. But there are always ways to fix those problems temporarily while the app developers work to solve them once and for all.
Try all the above methods if you face the "Snapchat black loading screen stuck on tap to load" issue. I am sure one of the given methods will solve your problem.
If you face any other issues, feel free to leave a comment below, and we will help you resolve the problem. Till then, Happy Snapping!