If you're like me, then you probably use Discord to communicate with your friends. It's a fun app that lets you chat with others in real-time. However, I've found myself spending more and more time on the app lately because it's so addicting to play games while talking with friends. What I need is a quick way to log out of discord to go do something else! Luckily, some tricks will allow you to log out quickly and securely without closing the entire application or any programs it may be running in the background.
Here is how you can log out of Discord on your PC:
Open Discord
Click on "User Settings"
From the left menu panel, find and click "Log Out."
Confirm your action by selecting the "Log Out" button again.
Follow these steps to log out of Discord while using its app:
Open Discord app.
Tap on the hamburger menu.
Select "User Settings" at the bottom of your screen.
Tap the white box icon and "Log Out," and it's done.
Stay with us till the end to learn how to log out of Discord in detail.
How To Log Out Of Discord?
When you log out of discord, the session ends. This means that you will have to log back in. If your computer or phone gets stolen, it won't be able to access the account without logging into Discord first. So, to ensure the safety of your account, I recommend you log out of discord.
How To Log Out Of Discord On Mobile?
Logging out of Discord is the same whether you are using it online or offline. However, there are some things that can get in your way when trying to log off. For example, if you have a phone with multiple users, then logging in may be difficult because other people are logged in. Other users are also able to see your status if they look at the drop-down menu under their name.
Step 1: Download And Open The Discord App.
First of all, download the Discord app from the Appstore or PlayStore if you haven't already. Then, open the app.
Step 2: Tap On The Hamburger Menu.
Once you open the app, you will see the three dashes icon in the top left corner of your screen. Tap it. You might have to swipe right to the Hamburger menu as well.
Step 3: Select "User Settings" At The Bottom Of Your Screen.
You must see "User Settings" or the gear icon at the bottom of your screen. Tap it.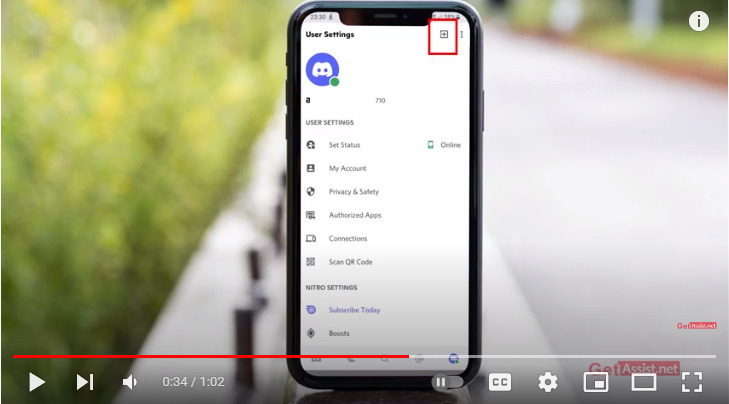 Step 4: Tap The Box Icon And "Log Out," And It's Done.
Then, you will see the box icon, which has a right arrow inside. This is your log-out button. Tap the button to log out of Discord.
How To Log Out Of Discord On Desktop?
This process is the same for both Windows and Mac computers. The first step will be opening up your discord account, which you can find by searching it in your search bar or clicking on the application if you have it installed.
Then, you will have to follow these steps:
Step 1: Open Discord On Your PC.
Start the process by opening the Discord on your computer. This process will vary depending on the operating system you are using.
Step 2: Click On the Gear icon
Once you open the Discord, you will see the gear icon in the window. Click it. A menu will appear as soon as you select the button.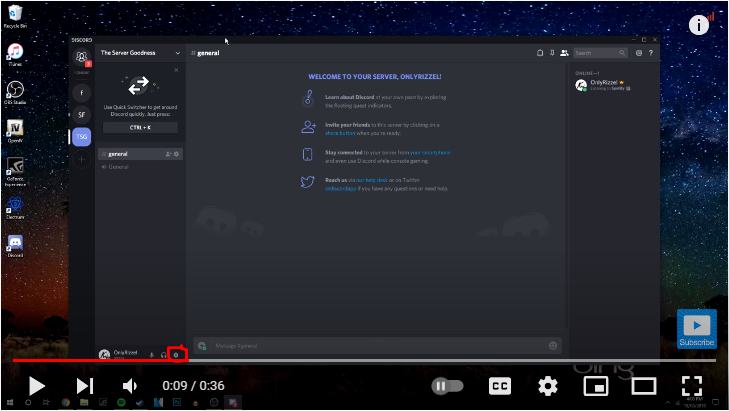 Step 3: From The Left Menu Panel, Find And Click "Log Out."
A new screen will pop up. From the left menu panel, find the "Log Out" button and click it.
Step 4: Confirm Your Action By Selecting The "Log Out" Button Again.
Finally, confirm your action by pressing the "Log Out" button again. And you are done.
Yes, it's that easy to log out of the Discord.
Why Log Out Of Discord?
Logging out of Discord is important for many reasons. Not only does it log you back into your account on the correct server, but logging out also keeps your information safe and secure.
Here are some reasons why you should log out of Discord:
Logging in to different devices – Via your account, it is easy to access Discord on multiple devices. However, logging out keeps you safe from any unwanted eyes peering into the server or messages being sent while not in active use for yourself.
Keeping information private – Anyone with physical access to your device can access the Discord software. This means they will also have access to all of your messages, groups, and more. Logging out keeps this information safe for you!
Keeping personal information secure – Similar to keeping information private, logging in with someone else's account could give them full control over their username and password on that server or group. This could put your information at risk.
It prevents glitches or errors from occurring out of frustration.
There are many more reasons why logging out of Discord is important. So, next time you use Discord, don't forget to log out!
How To Log In To Discord?
If you accidentally logged out of Discord and now you don't have the slightest idea on how to log in back to your account, this is exactly where you ought to be.
Logging into your account on the popular voice- and text chat app called "Discord" is very easy to do; it will take you only a couple of minutes.
To get started, go to Discord's website or just open the Discord app on your phone.
The page will automatically direct you to the Login page.
Fill up your credentials in the respective field.
Then, tap the blue "Login" button to log in to your Discord account.
How To Log Out Of All Devices On Discord?
If you're using multiple devices and need an easy way to log out without quitting or closing your browser window, Discord has made it simple to log in and out across devices.
To log out of all your devices on Discord,
Click the gear icon at the top right corner of any Discord app window
That will bring up an option that says "Log Out Of All Other Sessions." Tap that.
A confirmation box will show up that says "Are you sure?" and gives a list of all your devices connected to Discord at the moment.
Click or tap the one(s) you want to log out from, then hit OK in the bottom right corner of this window (desktop computers). Mobile users can just press outside the popup box after they've selected the device(s) they want to log out from.
You'll be taken back to the main Discord menu and will see a notification that you've logged out of other sessions on devices. That's it! You can now use Discord for one specific task, like playing games or chatting with friends, without having your past chat.
Troubleshooting Discord Login And Logout Problems
One of the most common problems with Discord is when users are unable to log out. If you're experiencing this issue, there are a few possible explanations for why it might be happening and ways in which you can fix it. Let's take a closer look at some of them below!
One of the most common reasons why users can't log out is if they are using a third-party application. This includes Discord web applications that aren't officially endorsed by the platform, such as MeeK and Nitro (formerly Dasino). These types of 'clients' will often require you to stay logged in to your Discord account, making it impossible for you to log out from the platform itself. In order to fix this issue, you will need to use a different web application that doesn't require users to stay logged into their accounts while using them (such as Discord Canary).
If it is instead a PC-based problem and not a third-party application, there are a few other things that could be causing it. Suppose you have recently updated your operating system or performed another type of update to the device on which Discord is installed. In that case, you might need to complete an uninstall and reinstall for this issue to resolve itself.
Another possibility is if you've been using the same device for a long time, you might need to clear out your cookies. Again, this is most commonly associated with Mac-based devices due to macOS's handling of browser history and other details. In contrast, PC users should be able to find their cookie files in App Data Roaming. From there, you can delete the cookies file and restart your device in order for this issue to be resolved.
If none of these options resolve it, you can try uninstalling Discord completely from your PC or Mac and reinstalling it again when needed. This will reset all of its settings and hopefully allow you to log out once more without any further problems.
Frequently Asked Questions(FAQs)
Let's answer your most asked question about Discord now.
Is Discord Free?
Yes, Discord is free to use. However, users have the option of upgrading to a "Nitro" account for $US60 a year that will give them an animated avatar; custom emotes, and other benefits, as well as removing those pesky ads you see from time to time on your screen.
Can I Use The Same Login Information For My Xbox One As Well If I Link It In Settings?
Yes, Logging into your Xbox One with your Discord credentials will allow you to play with your friends through Discord.
You can also make special arrangements with your friends to only allow them access to certain parts of the Xbox One if you're sharing it with others.
Can I Use My Email Address Instead Of A Username?
No, you must use your username in Discord. This allows friends to easily search for and add each other instead of searching through lists of people using their email addresses.
Wrapping Up
In a nutshell, logging out of Discord is a simple process that can be done in no time. So whether you have to log out of your Discord account on browser or app, the steps are pretty easy and can be completed in a matter of seconds.
I hope this blog post helped log out of Discord quickly and securely on the browser or app. If there is anything else that you need help with, please let me know, and I'll be more than happy to assist!
Thank You.
References: