If you're like me and have been using Discord for a while, the chances are that you've accumulated a lot of stuff in your account. You might also be thinking about deleting your account to start fresh! If so, then this blog post is for you. Here we will answer all the frequently asked questions about how to delete your Discord account: what it means to disable or delete an account; whether or not you should do it; and if there's anything else that needs doing after deletion.
To delete your Discord account using its app, follow these steps:
Open the Discord app.
Tap the cog-wheel icon and open the "User Settings."
Now, select "My Account" and "Edit."
You will see the "Delete Account" button. Click it and you're done!
Yes, it's that easy to delete your Discord account.
Read more to learn the account deletion process of Discord and many more in detail.
About Discord
Let's have a quick overview of what Discord is before getting into how to delete your Discord account.
Discord, in short terms, is a free text and voice app for gamers that allows players all around the world to communicate with each other without any issue; it's like Skype but much more advanced than Skype when compared side by side. On top of everything else, you can also create servers on Discord. These are online communities of people who share a common interest and can communicate with each other via voice or text.
Discord is not only for gamers, though. You can even create a server for your school, workplace, or any other interest-based community. Lately, I have been hearing a lot about Discord and how it's becoming more popular among people. So, if you haven't heard of Discord before, this is the right time to get started!
Before You Delete Discord Account
The moment when you delete your account on any app or website always seems like an important decision because there are many things that we need to consider before deleting our Discord account. So here are a few things that you need to think about before deleting your Discord account:
If you have any servers in your account, delete or transfer the server because if not, then they will get lost when you delete your Discord account. You can also disable them so that no one else can use them without permission from you.
If you have any games in your account, transfer them to another gamer's account because deleting the game will make it unavailable to play for anyone.
Be sure that all of your friends know about your decision and whether they're cool with it or not; if they are, then tell them what Discord server (if owned) that you want them to join after you delete your account. This way, they'll know where to find you when needed or wanted.
You can always change your mind about deleting your Discord account if you do not like the idea of doing it after all.
How To Delete Discord Account?
If you've made up your mind and decided to delete your Discord account, then this is how you will be able to achieve that goal:
Step 1: Open Discord
First of all, open the Discord app or visit the official website of Discord from your browser.
Step 2: Login To Your Discord Account
Now, log in to your Discord account using the email address and password you registered on it.
Step 3: Go To "User Settings"
Then, you will see a cogwheel icon on the top left of your screen. Click it and open "User Settings."
Step 4: Click "My Account" And Then Select Edit
Now, click on the "Edit" button under your profile picture, located at the top right corner of the menu. A new window will pop up with options to edit account details such as your username, email address, and password.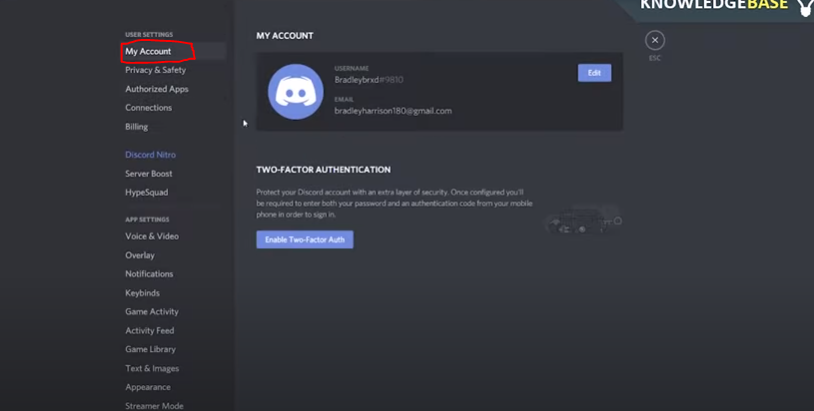 Step 5: Click the "Delete Account" Button
At last, you will see the "Delete Account" button at the bottom of this window. Click/Tap it to delete your discord account.
Step 6: Re-enter your password if prompted(Optional)
There is a good chance that you will be prompted to re-enter your password for confirmation. Do that and proceed with the account deletion process.
That's it. Following this process will delete your Discord account permanently. However, if you do not want your account to disappear forever, you can try disabling our account instead.
How to Permanently Delete a Discord Account for Someone Who Has Died
What to do if a loved one has passed away and you need to delete their Discord account? In such cases, the best thing you can do is contact a close friend or family member who knows about your loved ones' passwords. Then have them log in to their Discord account from another device they own and then select "Delete Account," as explained in the previous section of this article.
But, what if nobody knows the password of your loved one's Discord account? In this case, you can still delete their discord account by contacting the administrators on the official Discord website.
Here is what you need to do.
Step 1: Go To Discord Support
Go to Discord's official website and click on the "Contact Us" option, which is located at the bottom of your screen.
Step 2: Explain your situation
Now, explain your situation to the Discord support team and tell them about the death of one of your friends or family member. Provide all relevant details which you think will help with the account deletion process, such as the date when they passed away, how old they were, etc.
Step 3:Send the Message
Once finished writing your message, click on the "Send" button to send it. Now sit back and wait for their response which will most likely provide you with instructions on how to delete an account in your situation.
Discord should reach out to you within a few days or weeks.
How To Disable Discord Account?
If you do not want to use your discord account anymore but don't want it deleted entirely, disabling it is the best option. The process is very similar to deleting your Discord account permanently. The only difference is that you will have to select the "Disable Account" button instead of "Delete Account" in step five of the previous section.
Anyway, here is a step-wise guide to disable your discord account:
Open discord app or discord's site on your device.
Login to your account.
Open your profile settings by clicking on the cogwheel icon at top left of screen and go to "User Settings."

Now, click on a "Disable Account" option which is located under your avatar picture from options provided in this window.

Enter password when prompted(Optional).
Click/tap on the "Disable button" again to disable your Discord account.
That's it; you have successfully disabled your discord account, and your account will become inactive within a few seconds.
You can always enable your Discord account again by logging in with your username and password.
Should I Disable Or Delete My Discord Account?
So, here comes a very important question. Should I disable or delete my discord account?
Well, the answer to this question is very simple and straightforward. If you think you will be using Discord in the future, it's better if you do not delete your account completely. But, on the other hand, if there is no chance of coming back to Discord again, then what are you waiting for? Go ahead and delete your discord account.
But, there is a very big chance that you will come back to Discord again in the future, which means that disabling your account would be the best option available at this point in time.
Once You Delete Your Discord Account
If you have finally deleted your discord account, then congratulations! But don't forget that deleting a discord account is not as simple as pressing the "delete button" from any random website. In fact, it takes time for them to delete all the data associated with your user id, so please be patient and wait until they delete your account permanently.
After they delete all the information related to you, nobody will be able to access your discord data, including messages, group chat history, etc. This is great news for people concerned about their privacy and the security of personal data.
Be assured that Discord has a strong team of professionals working round the clock on servers, so don't worry about your data. They will delete it permanently from their servers as soon as possible, and you can rest assured about the security of your confidential information/data because they take privacy very seriously(Unlike most companies, am I right?)
Frequently Asked Questions (FAQs)
I know that you still have some questions in mind. So, here are some frequently asked questions (FAQs) regarding the Discord account deletion process:
Q: What Happens To My Account After I Delete It?
A: You won't be able to access your discord account once you have deleted it. In simple words, all the data associated with your user id will get wholly erased from their servers, and no one(including Discord) can restore them because they take the security of information very seriously.
Q: How Long Does Deleting My Account Take?
A: Deleting your Discord account is a time taking process. It usually takes them within a few days or weeks to delete your account permanently from their servers.
Q: Can I Cancel My Deletion Request?
A: Once you have deleted your discord account, then there is no way of canceling that deletion request because deleting a Discord account is a permanent process and cannot be reversed in any case. However, if you have disabled your account, then you can always enable it again.
Q: Can I Get My Deleted Discord Data Back?
A: No, once you have deleted your Discord account, there is no way to get your deleted data/information back because they delete them permanently from their servers.
Conclusion
That's all from my side in this article. I have tried to cover almost every aspect of deleting a discord account so that you can decide on the deletion of your Discord account.
I hope that now you are a little more confident about deleting or disabling your Discord Account without having any second thoughts because there is no reason for being hesitant at this point in time.
No matter what you choose, they will not be any negative impacts on your Discord experience, and all the data associated with your user id will remain safe and secure because their servers are very reliable(Unlike most companies, am I right?)
Please let me know if you have any questions by leaving a comment below. I would be more than happy to help you out.
Thank You!
Reference: