Snapchat is one of the most used Social Media applications with around 300 million daily active users. It allows you to connect to friends and family and strangers from all around the globe. The cool features and privacy value make Snapchat one of the most loved apps among youngsters. In Snapchat, you can add a unique username and display name that doesn't have to be your real name. So, how do you find someone's real name on Snapchat?
We often find somebody we vibe with on Snapchat, but we do not know what they look like or their real name. It becomes troublesome to get to know the person without knowing their name. So, we put our detective minds to work. Sometimes we get lucky since most people have the same username for Snapchat and Instagram, but mostly we fail. Don't worry; today, I have gathered some techniques you can follow to find out the real name of the beau you are interested in.
You can try and search the real name on Snapchat itself or through other methods like third-party tools, Google search, photo search with Google Image, and as such. Let's look at these methods in detail below.
What Is Snapchat Username?
Before getting to the methods, you should first know a Snapchat username. Snapchat, like other apps, allows you to set up a unique username. Most people get confused between username and display name. The name displayed on your chat list while sending and receiving snaps is the display name.
A username is a name that other people use to find you on Snapchat. It can be a combination of letters, numbers, and other special characters. You should keep a username that best suits your personality if you do not want to go with your real name.
Related: Snapchat Username Ideas
How To Find Someone's Real Name On Snapchat?
For security and privacy reasons, you shouldn't use your real name on Snapchat. You can also use a unique Snapchat username to look more mysterious, because why not? However, sometimes, you link up with someone in the most unprecedented way, and now you don't even know their real name.
There are a few ways to find a real name through a Snapchat username. So, don't worry, we've got you covered!
Through Snapchat User Settings
You can only use this method if the user has added their real name on Snapchat while signing up. Moreover, Snapchat also allows user to hide their username if they have one. Hence, if you are lucky enough, the following steps can be your "elixir."
Step 1: Open the Snapchat app on your phone, automatically taking you to the camera page.
Step 2: Go to your Profile, your Avatar at the top left corner of the camera page.

Step 3: Then, tap on the My Friends option to open the list of your Snapchat friends.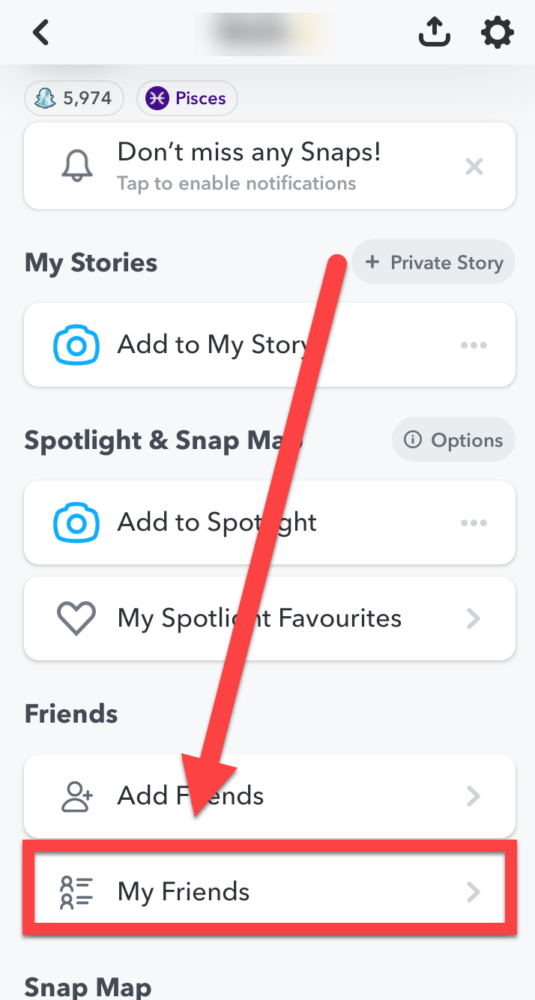 Step 4: Now, you can either scroll till you find the account you are looking for or type in the name in the Search Bar.

Step 5: Once you find the account, tap on its Profile icon, which will lead you to its complete Profile. You should only see the user's real name if they have added their real name.

Snapchat respects users' choice to keep their names hidden. If this method doesn't work, you can try other secondary methods.
Through Google's Search Engine
As simple as it may seem, Google helps you find information about a person most of the time. Google has millions of data stores and can have various information on various people and things.
When Social Media is the hype, it is rarely possible that a person only uses one app. Hence, it would make sense to Google the Snapchat username. You may find their accounts on other platforms like Instagram, Twitter, or Facebook.
Use A Third-party Lookup Tool
You can channel your inner Joe Goldberg and look up someone in the search engines like the second method. However, it can be time-consuming and exhausting.
Fortunately, a few Snapchat username lookup tools can help your convenience. In addition, these tools may also help you gather additional information like contact information, address, and more.
Some of the tools are:
BeenVerified
BeenVerified is one of the most popular search websites. To search for a username in the tool, type the Snapchat username and click search.
Spokeo
Spokeo is another similar tool that helps you find someone's real name on Snapchat. It matches public profiles through hundreds of social networks like dating sites, blogs, etc.
In Spokeo, type the username you'd like to search. And, after the search completes, click on Unlock Full Results to view the information.
Likewise, some other tools are People Looker, People Search, etc.
Use Google Images
Another method to find someone's real name on Snapchat is Google Images. However, this method is only possible if you have a picture of the person you want to search for.
Follow the given steps to find the person through Google Images:
Step 1: Save the picture of the person you on your device
Step 2: Open a new tab on Google, and click on the Images option, which is on the top right corner of the tab, next to your Google Account.
Step 3: On the appeared page, you will see a search bar, which has a Camera icon at the end, tap on it.

Step 4: Upload the person's image by clicking on Choose File.

Step 5: Google will do a thorough search of the picture, and if you are lucky, Google will recognize the person.
In this way, you can find someone's real name on Snapchat. This method is not very dependable, but it is worth a shot.
Use Other Social Networking Apps To Run Said Username
Like searching the username on the Google search engine, you can run this username on other networking sites, like Instagram and Twitter.
Most people will have the same username on multiple accounts, so you might be lucky enough to find this person's real name in other Social Media apps.
The only problem you may face with this method is the privacy setting of this user. For example, if the person has private accounts on all social media apps, it might limit your search options.
Gather Some Guts To Directly Ask
Rather than going through all this hassle, the best way is to ask for their real name on Snapchat directly. You have been chatting and sending snaps for quite a while, and if you are interested, there is no harm indirectly asking them.
Nonetheless, this might not work if you are being catfished. Otherwise, this is a 100% successful method (maybe 99%).
Thus, these are some methods you can use to find someone's real name on Snapchat.
Frequently Asked Questions
Here are answers to some of the most frequently asked questions related to the topic:
How To Find Someone On Snapchat?
There are many ways you can find someone on Snapchat. For example, if you have a contact number of this particular person, you can look them up through your contact list. Likewise, if you have their snap code, that may help you find the person on Snapchat.
Moreover, you can directly search for this person on the search bar on Snapchat.
Can You Hide Your Name On Snapchat?
Yes, you can hide your username and your real name on Snapchat. You can do that by simply creating a Display name that the app will show to your Snap friends in stories and chats.
Is It Best To Not Add Your Real Name On Snapchat?
Snapchat provides you with the option to add unique usernames that don't have to be your real name. So yes, it is best not to use your real name on Snapchat if you want to maintain a private account. It will be secure and private.
Conclusion
Hence, finding someone's real name on Snapchat might not be as difficult if you follow the methods I have explained above. However, if the case is that you are interested to know more about a person you met on Snapchat, the best option is to have a decent conversation with the person and ask them directly. It saves a lot of time, and you will find more than just their name.
Moreover, every user should be conscious of using their personal information haphazardly, so we advise you to share only necessary information and be safe and secure to protect your identity online.
I hope you find the person you are looking for. Good luck!